It is rarely an injury that stops the "hard-core" runner from running, but it can still affect running significantly because of the pain. Morton's Neuroma is something I have suffered from for many years now, and at times I can have a lot of pain under the pad in the forefoot. Here I give you tips on the best help for Morton's Neuroma, along with the best running shoes for Morton's Neuroma 2023.
7 Best Running Shoes For Morton's Neuroma 2023
There are many good models of running shoes on the market for those suffering from Morton's Neuroma 2023. According to me, these are the best running shoes for Morton's Neuroma 2023:
1. Saucony Triumph 21 – Best Overall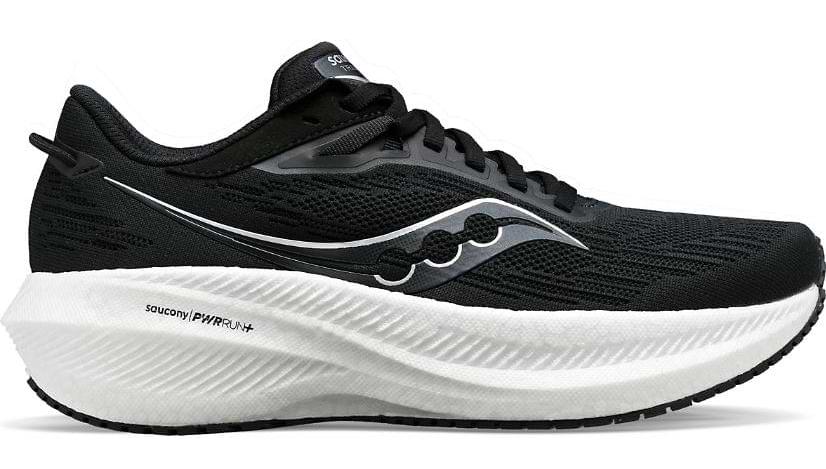 The new Saucony Triumph 21 is specifically designed for those who seek both high-performance and comfort, particularly suitable for individuals dealing with Morton's Neuroma – especially the wider version of the model.
Starting with the cushioning, the shoe incorporates PWRRUN+ technology coupled with a PWRRUN+ sockliner, delivering a luxurious underfoot feel. This is a standout feature that offers considerable benefits to those struggling with Morton's Neuroma, as it provides much-needed comfort and support for the affected area.
Another notable pro of the Triumph 21 is the design of the upper. The new flat-knit upper, equipped with a redesigned lacing system, ensures both comfort and security. The secure fit can prevent unnecessary movement and friction, which can often exacerbate the condition.
Furthermore, the soft collar, new laces, and padded tongue are not just additions but vital components that can significantly enhance the walking or running experience.
2. New Balance Fresh Foam X 1080 V13  – Best New Balance Shoes for Morton's Neuroma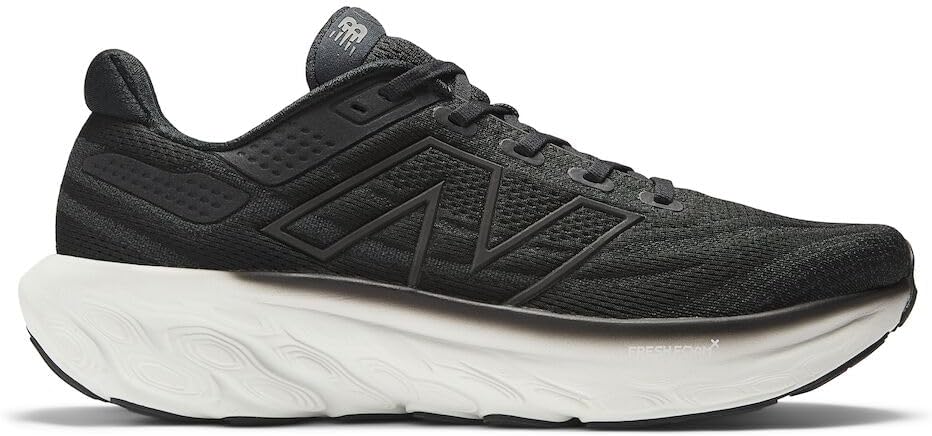 Known for cushioning and support, New Balance provides a wider toe box that may help alleviate pressure on the neuroma. The new New Balance Fresh Foam X 1080 V13 stands out as an exceptional choice, with models also in wide and x-wide. This shoe is engineered with a Fresh Foam X midsole, incorporating about 3% bio-based content.
This not only offers a supremely cushioned experience but also marks a step towards sustainability with its use of renewable resources.
What sets this shoe apart, especially for those dealing with Morton's Neuroma, is its dual-density midsole. This feature combines two types of foam to achieve the perfect balance of comfort and performance. Such a design can be crucial for mitigating foot pain associated with neuromas, providing both soft cushioning and supportive firmness where needed.
Durability is another key aspect of the Fresh Foam X 1080 V13. It employs NDurance rubber outsole technology, especially in high-wear areas. This ensures the shoe can withstand extensive use, a vital attribute for regular runners.
3. Hoka Bondi 8 – Best Hoka Running Shoes for Morton's Neuroma 2023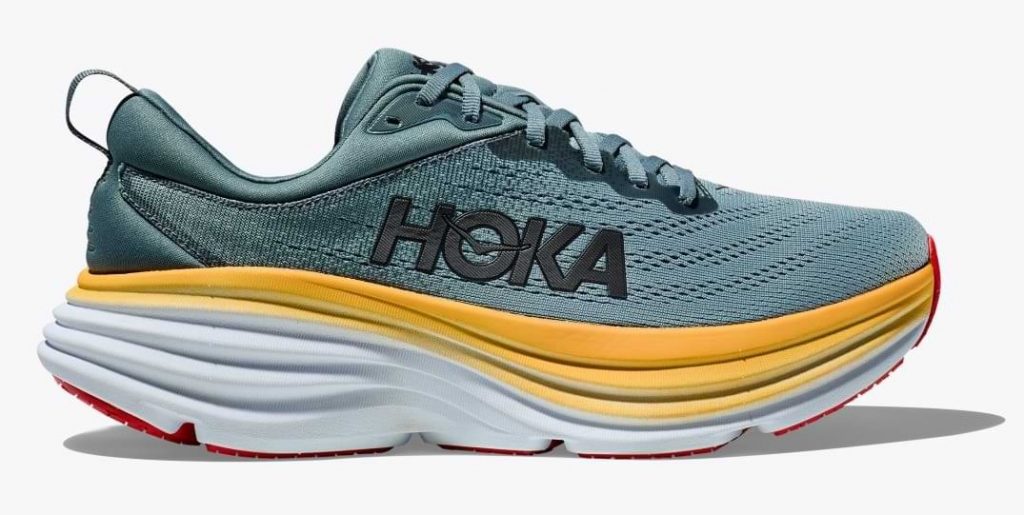 Are Hokas good for Morton's Neuroma? In the search for the best running shoes for those dealing with Morton's Neuroma, the Hoka Bondi 8 emerges as a standout choice. This latest iteration from HOKA is a testament to the brand's commitment to innovation and comfort.
The Bondi 8 has undergone a significant transformation, featuring softer and lighter foams, which is a game-changer for runners requiring extra cushioning.
What sets the Bondi 8 apart is its novel extended heel geometry. This design introduces a billowed rear crash pad, offering an impressively soft and balanced ride. This feature is particularly beneficial for Morton's Neuroma sufferers, as it ensures a smooth transition from heel strike to forefoot, reducing the stress on the forefoot area where this condition can cause significant discomfort.
The overall design and construction of the Bondi 8 speak to a shoe that's not just about performance but also about providing relief and support where it's needed most. This makes it a top recommendation for anyone looking to alleviate the discomfort associated with Morton's Neuroma while enjoying their running journey.
Remember to choose the "Wide" or "X-Wide" models which have a more generous toe box if you choose the Hoka Bondi 8 as your running shoe against the Morton's Neurom.
4. Altra Torin 7 – Best Altra Shoes for Morton's Neuroma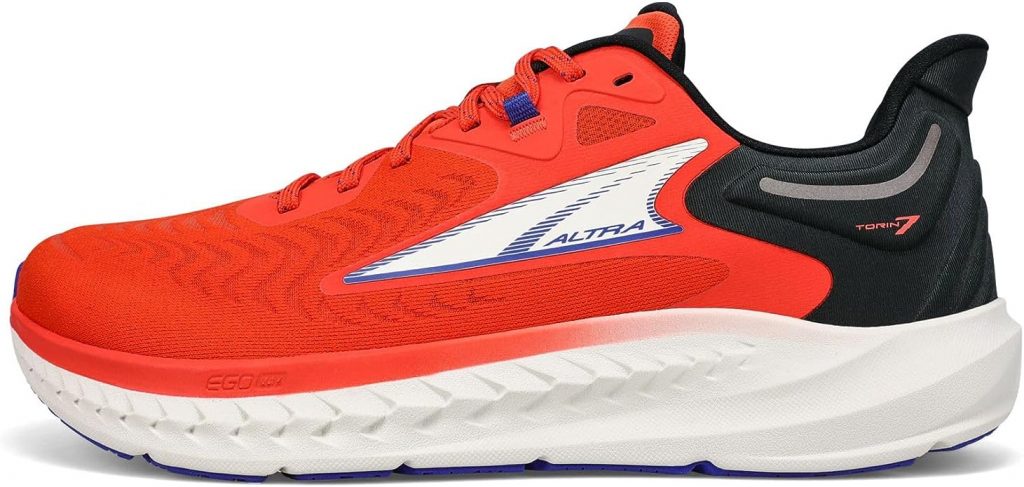 Altra's line of running shoes often comes with a wider toe box and foot-shaped design, which can give your toes space to move and reduce pressure.
Altra Torin 7 brings performance and durability to a new level. With Altra's EGO MAX foam, it offers additional cushioning that provides two millimeters more bounce and comfort. This extra cushioning truly sets the shoe apart, making it perfect for long runs.
The Torin 7 also presents a fine redesign, particularly in the tongue, which has been completely overhauled to provide a plush feel. This is coupled with a lightweight engineered mesh upper that promises comfort and breathability. Whether you're running on a trail or a treadmill, your feet will feel free and unburdened.
One of the standout features is also the evolved moulded heel collar, designed to keep your foot locked in and secure with every stride. This contributes to a confident and stable running experience.
5. Brooks Ghost 15 – Best Brooks Running Shoes for Morton's Neuroma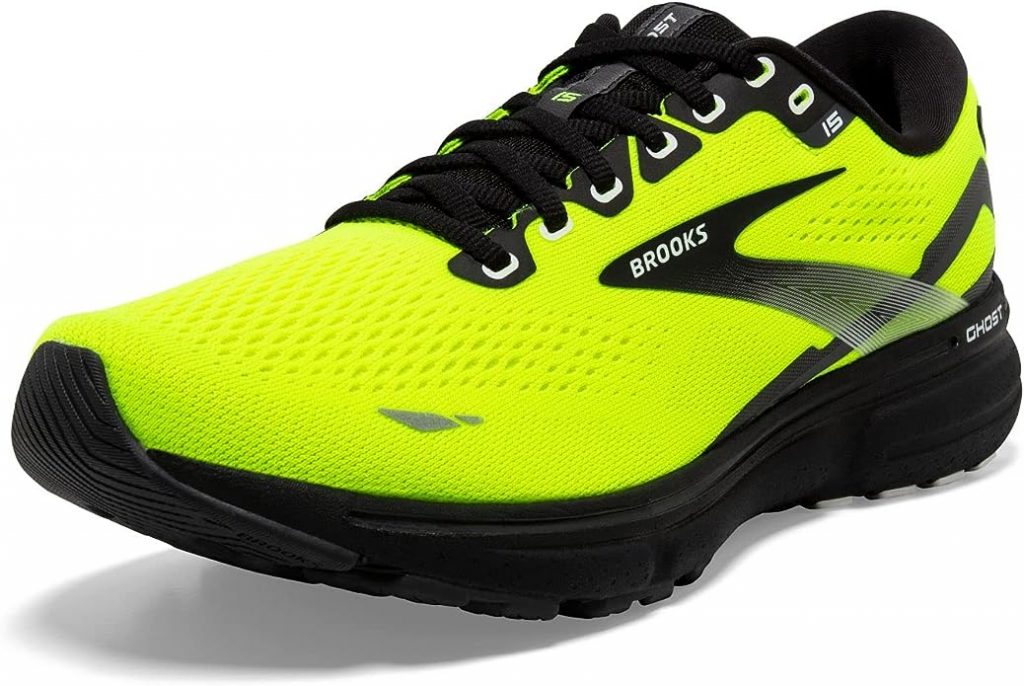 Brooks Ghost 15 offers great cushioning and is often recommended for various foot conditions, including Morton's Neuroma. With its advanced 3D Fit Print technology, the shoe ensures a seamless and secure fit. It's also recognized as a PDAC A5500 Diabetic shoe and has earned the APMA Seal of Acceptance.
The Ghost 15 is not just supportive but also rich in cushioning. Its neutral alignment complements the high-energizing padding, making it a perfect companion for road running, cross-training, or even gym workouts. As a successor to the Ghost 14, it maintains quality and performance.
The new DNA LOFT V2 cushioning in the midsole provides a soft and lightweight feel. This enhances the comfort underfoot, allowing you to concentrate solely on your run. It ensures a smooth, stable ride through a combination of a gentle midsole and a Segmented Crash Pad, which together create a shock-absorbing system that facilitates a smooth transition from landing to toe-off.
Read more: Best Brooks Running Shoes
6. ASICS Gel-Nimbus 25 – Best ASICS Running Shoes for Morton's Neuroma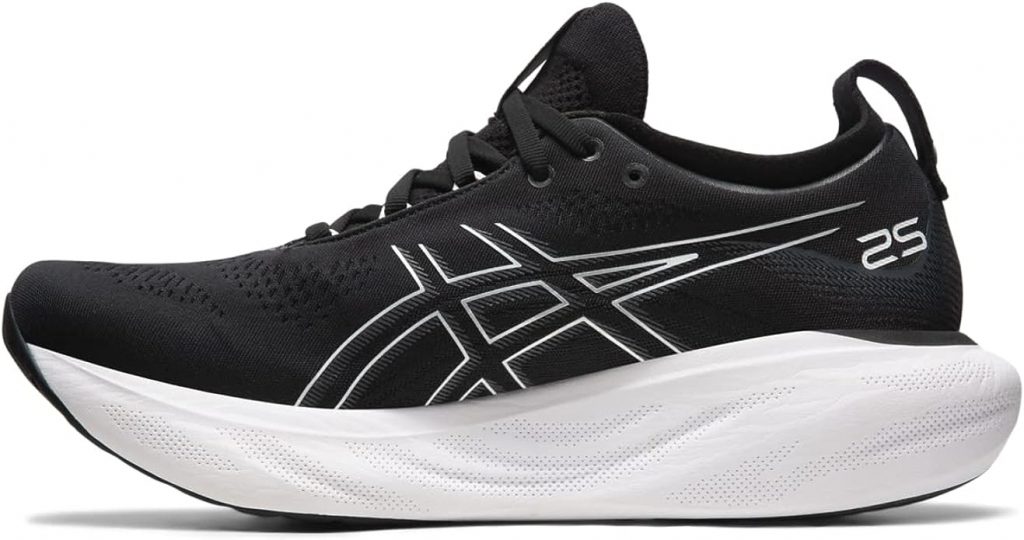 The engineered knit upper on ASICS Gel-Nimbus 25 is a standout feature that wraps the foot with a soft and gentle feel. This not only adds to the comfort but significantly enhances breathability, providing a more agreeable wear for those suffering from Morton's Neuroma.
The PureGEL technology in this shoe offers lightweight cushioning, allowing for softer landings. This technology ensures the cushioning doesn't weigh down the shoe, providing both comfort and support.
Adding to the cushioning features, the FF BLAST ECO PLUS technology creates a softer landing coupled with a more responsive toe-off. This can be especially beneficial for Morton's Neuroma patients, helping in providing ease during movement and a better overall foot experience.
7. Mizuno Wave Rider 27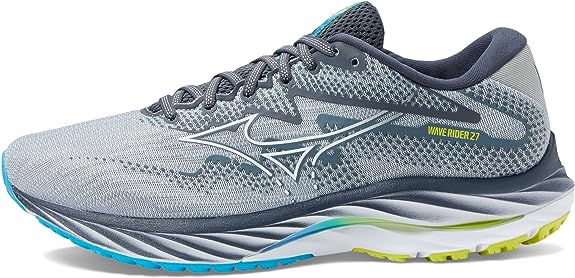 The shoe offers an array of features catering specifically to the needs of individuals with Morton's Neuroma. The Mizuno Energy Foam introduces a fine balance of versatility, softness, and resilience to the shoe.
If you are suffering from Morton's Neuroma, the extra cushioning will enhance your performance capabilities by offering comfort and support to the sensitive areas of your foot. It alleviates pressure, making it ideal for those needing specialized care.
The MIZUNO WAVE plate is another standout feature, designed to disperse energy from impact across a broader area. This not only provides a stable platform but also superior cushioning, further reducing strain on the affected foot. It aids in absorbing shock, which can be a significant factor for those with Morton's Neuroma.
Breathability and durability are combined seamlessly in the engineered mesh upper. Having a breathable shoe means that there will be proper air circulation, reducing possible irritation. The durability ensures that the shoe will stand up to high-performance use, offering you quality that lasts.
Remember to go for the wider version of the model if you choose Mizuno Wave Rider 27, as a wider toebox is preferable for people suffering from Morton's Neuroma.
What is Morton's Neuroma?
Morton's neuroma is a painful condition that affects the ball of the foot, often felt between the third and fourth toes. It occurs when the tissue surrounding the nerves leading to the toes thickens, causing irritation, inflammation, and pain.
The exact cause of Morton's neuroma is unknown, but it is believed to be caused by repetitive stress or irritation to the nerve. It can also be caused by wearing tight shoes, high heels, or shoes that have a narrow toe box.
From time to time, I have used shoe inserts, but since these increased the weight of my shoes a lot, I have been running without them for many years now.
The problem with Morton's Neuroma is that there doesn't seem to be any other help than surgery if you want to eliminate the problems. When it is at its worst, you can have pain in every running step, and after a while, it feels like the whole foot goes numb when you run long enough.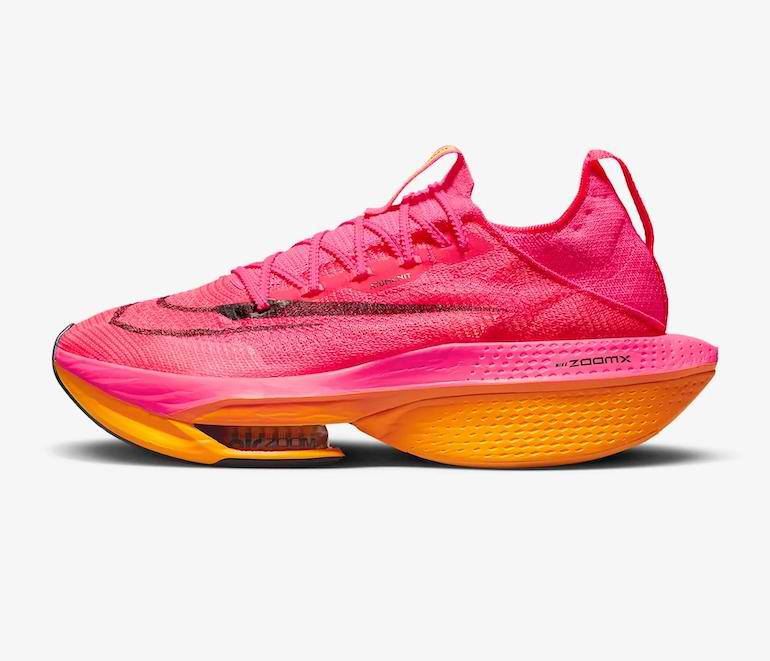 However, I have found out one thing about Morton's Neuroma. You should avoid shoes with a narrow forefoot and a a thin and soft front part. All this has been made much easier because many shoe manufacturers nowadays have adopted a well-cushioned sole.
I don't feel these problems when I wear shoes like the Nike Alphafly 2 (above) or the Nike Zoom Fly 5, that have a thick sole under the forefoot.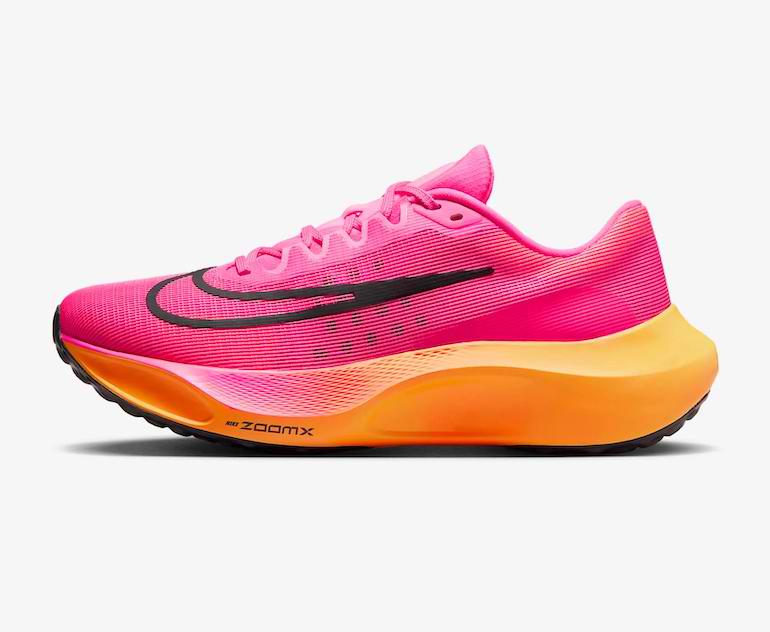 Nike Zoom Fly 5 is a more affordable model of running shoes from Nike with a harder midsole than the Alphafly.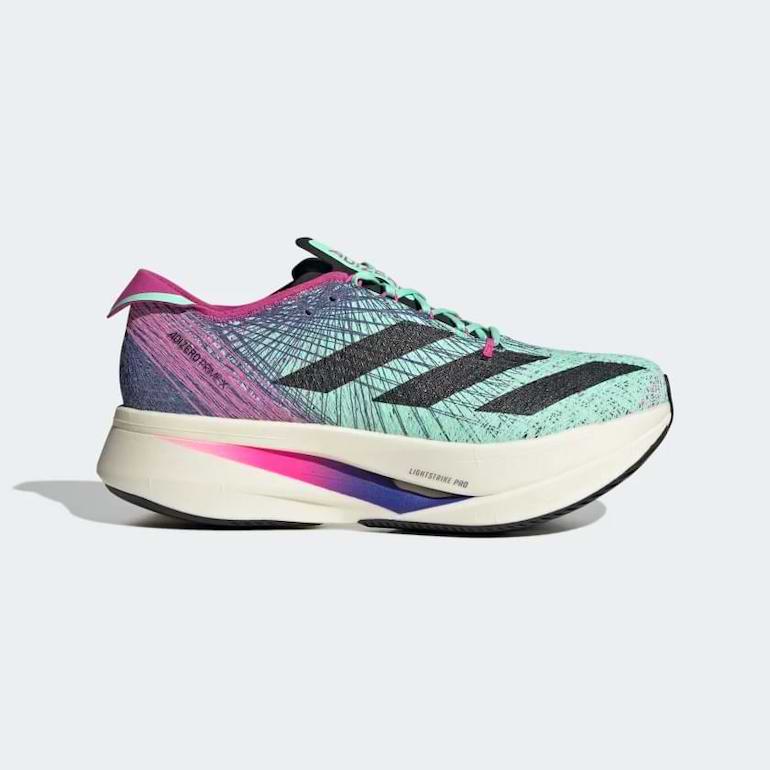 There are also some other shoe models that I can recommend if you have problems with Morton's Neuroma. These are Adidas Prime X (above) or Boston 12.
When using these shoes, I have not experienced any problems with Morton's Neuroma – not even on longer runs. The sole in the forefoot is thick and hard enough to protect from the shocks when the feet are hitting the ground.
The Adidas Boston now has much more cushioning in the forefoot with the introduction of carbon rods a few years ago. These shoe models have a thick enough forefoot to prevent the pad from receiving the shocks that cause the pain.
However, these shoes are quite expensive, and therefore I have in this guide picked some other models that are really good for those who suffer from Morton's neuroma.
Wear the right size and a wide toe box when suffering from Morton's Neuroma
Another thing to remember when choosing running shoes is to run with a large enough size to give your front toes enough room to turn. If the toes are crowded together due to shoes that are too narrow, the risk of aggravating Morton's Neuroma is much higher. I always go for at least one size too big when buying running shoes.
It's also generally a good idea to buy one size too big if you run long-distance races like marathons. It may initially feel a bit strange to run with bigger shoes than usual, but you will quickly get used to it.
So what is the best help for Morton's Neuroma? In my opinion you can avoid most of the pain caused by Morton's Neuroma just by choosing the right shoes. Luckily the running shoes available for these kind of problems are better that ever before. Running shoes with carbon plate is one example of shoe models that are usually good for problems caused by Morton's Neuroma.
Morton's Neuroma FAQs
What are the symptoms of Morton's Neuroma?
The most common symptoms of Morton's neuroma include pain in the ball of the foot, burning or tingling sensation, numbness in the toes, and the feeling of having a pebble in your shoe.
How is Morton's Neuroma diagnosed?
Morton's neuroma is typically diagnosed by a physical exam and a discussion of your symptoms with your doctor. Imaging tests, such as an X-ray, MRI, or ultrasound, may be used to confirm the diagnosis.
How is Morton's Neuroma treated?
Treatment options for Morton's neuroma include wearing supportive shoes with a wide toe box, using orthotics or inserts to provide cushioning and support, and taking anti-inflammatory medications. In some cases, steroid injections or surgery may be necessary to relieve symptoms.
Is Morton's Neuroma a serious condition?
While Morton's neuroma is not a life-threatening condition, it can significantly impact your quality of life and cause chronic pain if left untreated.
Can Morton's Neuroma go away on its own?
Morton's neuroma typically does not go away on its own. However, with proper treatment and management, symptoms can be significantly reduced or eliminated.
Can Morton's Neuroma be prevented?
You can reduce your risk of developing Morton's neuroma by wearing comfortable shoes with a wide toe box, avoiding high heels or shoes with a narrow toe box, and maintaining a healthy weight.
How long does it take to recover from Morton's Neuroma surgery?
Recovery time after surgery for Morton's neuroma varies depending on the extent of the procedure. However, most patients can expect to resume normal activities within 6-8 weeks after surgery.
Can I still exercise with Morton's Neuroma?
Low-impact exercises, such as swimming, biking, and yoga, can be helpful for managing Morton's neuroma symptoms. However, high-impact activities, such as running and jumping, should be avoided as they can aggravate the condition. That said, I've noticed that wearing the right kind of running shoes can almost completely eliminate the pain you feel from Morton's Neuroma while running.