Mizuno, the internationally renowned sports apparel and equipment giant, has just unleashed its newest member in the running shoe roster – the Mizuno Wave Rider 27. A running shoe that I previously have mentioned as one of the best running shoes for heavy runners. An upgrade to its predecessors, this model enhances the runner's stride, merging exceptional performance with unprecedented comfort.
Superior Design and Enhanced Performance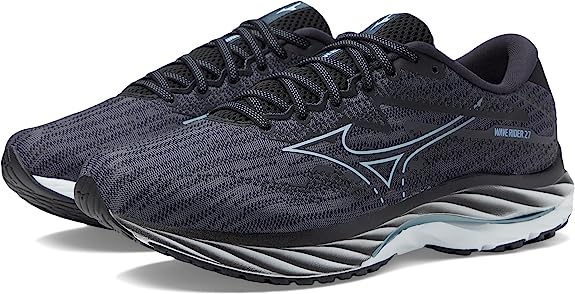 Slipping into the Wave Rider 27 will transport runners into a realm of unsurpassed performance. The shoe, while being two ounces lighter than its previous model, guarantees optimum support, thanks to its air mesh upper that provides a snug fit for every stride.
Run Dynamic with MIZUNO ENERZY
The Wave Rider 27 is infused with MIZUNO ENERZY technology that boosts the shoe's responsiveness and upscales its softness. It is time for runners to bid adieu to discomfort and say hello to an invigorating running experience, as the shoe promises to propel the runner forward with each step.
A Smooth Ride with MIZUNO WAVE® Plate
At the shoe's core lies the technologically advanced MIZUNO WAVE® plate, specifically engineered to evenly disperse impact energy, ensuring a smooth, cushioned run. This state-of-the-art feature reduces fatigue, taking your running experience to new heights.
Unmatched Durability and Comfort
The Wave Rider 27 showcases Mizuno's commitment to quality. Its durable lining mesh promises resistance to abrasion, ensuring longevity. The seamless gusseted tongue, designed without any stitching, comfortably secures the foot. Additionally, the revamped heel counter ensures a snug, personalized fit, enhancing stability throughout each run.
An Ode to Sustainability
Mizuno's devotion to sustainability is clearly embodied in the Wave Rider 27. The plant-based wave plate, made from Pebax Rnew®, signifies the brand's eco-friendly practices.
More so, the Wave Rider 27 incorporates over 90% recycled content in its sockliner lining, upper body, and lining textile. This move underscores Mizuno's efforts to balance outstanding performance with environmentally-conscious design.