There are many GPS running watches on the market right now, and the pace of development in this area is extremely fast. This can make it difficult to choose from the range on offer. Which running watch should I choose in 2023? Here I'll try to help you along the way and pick my favourite running watches on the market.
It's not just running shoes and treadmills that are evolving rapidly right now. Every year, new and improved models of GPS watches come onto the market. If you are not familiar with the field and are about to buy your first GPS running watch, this can make the choice even more difficult.
Which running watch should I choose in 2023?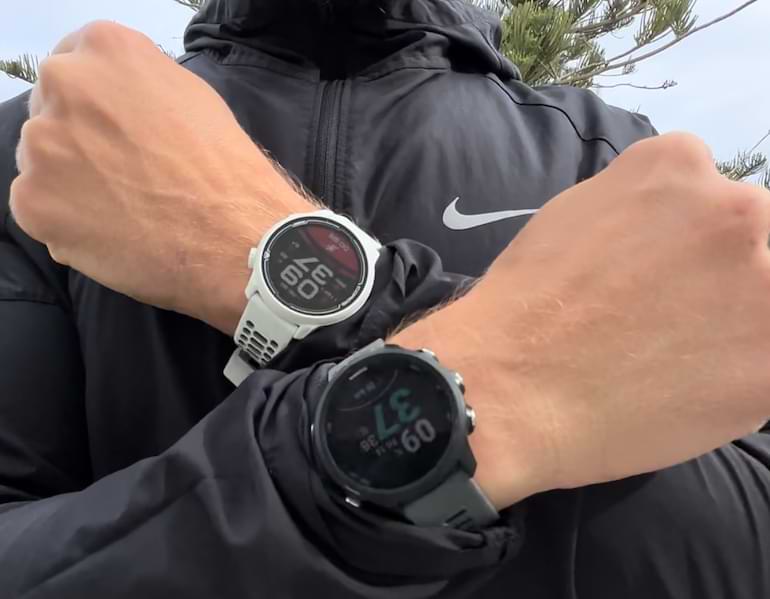 When choosing a running watch, there are several important criteria to consider. A common question I am often asked is – which running watch should I choose in 2023? It's not an easy question to answer because we all have different needs. If you are an experienced runner, you probably have more advanced needs than beginners. The budget we have at our disposal also influences the choice.
Since we are talking about running watches, it is important to keep in mind that they also fulfil the specific requirements of running in our conditions… and I am not talking about Malta, but Swedish conditions.
Below I list some of the most important things to keep in mind when choosing GPS-running watches in 2023.
Best GPS running watches 2023
Garmin Forerunner 245 – Most popular GPS running watch in 2023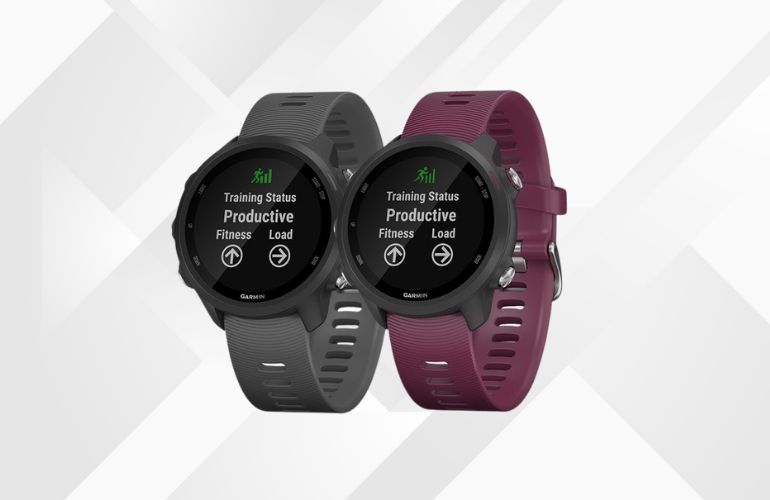 The Garmin Forerunner 245 is the most popular of all GPS running watches on the market internationally. There are several reasons for this. First and foremost, this is one of the most affordable running watches on the market with many features at a favourable price.
It has a range of features and capabilities that make it a great tool for tracking workouts and monitoring training progress. In particular, I like the fact that the watch has numerous and robust navigation buttons. This makes it easy to switch between different windows during interval training, for example.
The construction is also one of the most stable among all running watches on the market and you can basically treat the watch however you want without damaging it.
Benefits:
Accurate GPS tracking: Garmin is renowned for its accurate data on its GPS watches. The Forerunner 245 is no exception and it also finds the satellites quickly, so you can get started on your workout quickly.
Advanced running metrics: The watch comes with advanced running metrics such as cadence, stride length and ground contact time that provide detailed insight into your running performance.
Great price: With a price tag of less than £3,000, this is a very affordable GPS running watch given its features and durability.
Long battery life: The watch has a battery life of up to 7 days in smartwatch mode and up to 24 hours in GPS mode, making it ideal for long training sessions and outdoor activities.
Water-resistant design: Forerunner 245 has a water-resistant design that makes it suitable for swimming and other water-based activities.
Disadvantages:
Limited smartphone notifications: The watch only shows basic smartphone notifications, such as incoming calls, texts and calendar reminders. It does not support third-party apps or social media notifications.
No built-in payment system: The Forerunner 245 does not support mobile payments, which may be a disadvantage for users who prefer to leave their wallet at home during exercise.
Limited customisation options: While the dial can be customised, the watch is limited when it comes to changing the look of the watch.
No built-in Wi-Fi: Unlike many other modern smartwatches, the Forerunner 245 has no built-in Wi-Fi, which means it must be connected to a smartphone or computer to synchronise data and update software.
Overall, the Garmin Forerunner 245 is a great choice for runners who want a reliable GPS running watch with the essential features needed. If you want a versatile health measurement in your running watch, it is not the best choice, but especially for beginners, this is one of the GPS running watches I would recommend.
Garmin Forerunner 955 – Best premium GPS running watch in 2023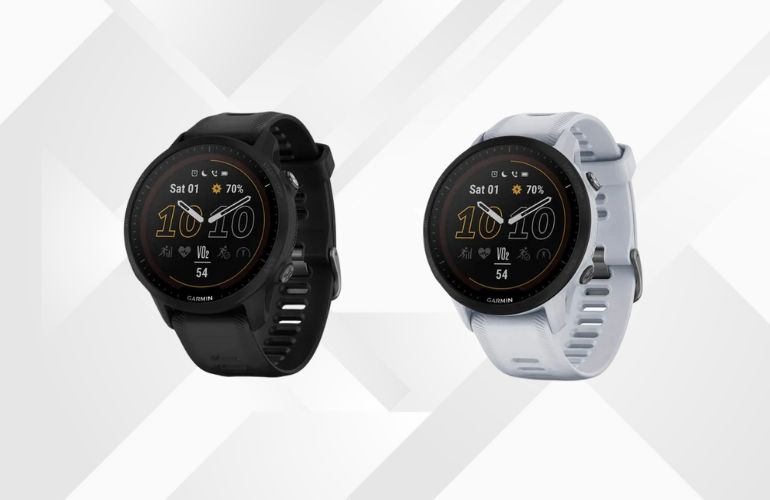 Garmin had two major innovations for runners last year when it released the Forerunner 955 and 255 running watches. Both became very popular, with the Forerunner 955 in particular being praised around the world as one of the world's best premium GPS running watches. At the same time, the Forerunner 955 Solar was also launched, which can be charged with solar energy.
It features a Power Glass™ solar cell that provides up to 20 days of battery life in normal Smartwatch mode and up to 49 hours in GPS mode. With all its unique features, this is by far one of the most advanced GPS running watches on the market.
What makes the watch so great is that in addition to all the running features, it has also been developed into a complete smartwatch to track health and recovery throughout the day. Here are some other features where the Garmin 955 excels.
Benefits:
Touchscreen interface: The Forerunner 955 Solar has an always-on full-colour display that is easy to read, even in direct sunlight. The responsive touchscreen complements the traditional 5-button design.
Training readiness: The watch provides daily insights into how ready the body is to benefit from training by taking into account sleep, recovery time, HRV status and additional metrics.
HRV status: Athletes can track heart rate variability during sleep to get a better handle on recovery and an overall picture of wellbeing.
Morning Report: When connected to a smartphone, the watch provides a customised report on the day's weather, suggestions for daily workouts, last night's sleep and HRV status.
Race Widget: Athletes can view race preparation information, including a race day-specific performance prediction, race day weather and a countdown clock, all in one widget.
Real-time endurance insights: The watch monitors and tracks effort levels in real time during a run or bike ride.
Built-in colour maps: Forerunner 955 Solar gives athletes built-in full-colour maps to stay on track and go the distance.
Advanced health and wellness features: The watch includes wrist-based Pulse Ox4 that monitors blood oxygen saturation levels and provides advanced health and wellness features.
Disadvantages:
Expensive: As with all premium GPS watches, you can expect to pay at least $5,000. This also applies to the Garmin 955, which is priced at nearly £6,000, and nearly £7,000 for the Garmin 955 Solar.
Limited payment system: The watch only offers limited support for Garmin Pay Bank, which can cause problems if you want to be able to pay with your watch while running.
Limited smartwatch features: Despite all the advances we've seen in Garmin's GPS watches, the Forerunner 955 still has limited smartwatch features compared to watches like the Apple Watch or Galaxy Watch.
No voice control: It may seem like an unnecessary luxury, but the fact is that many smartwatches now have voice control. However, this is something that is missing from the Garmin Forerunner 955.
Garmin Forerunner 965 – Best new running watch of 2023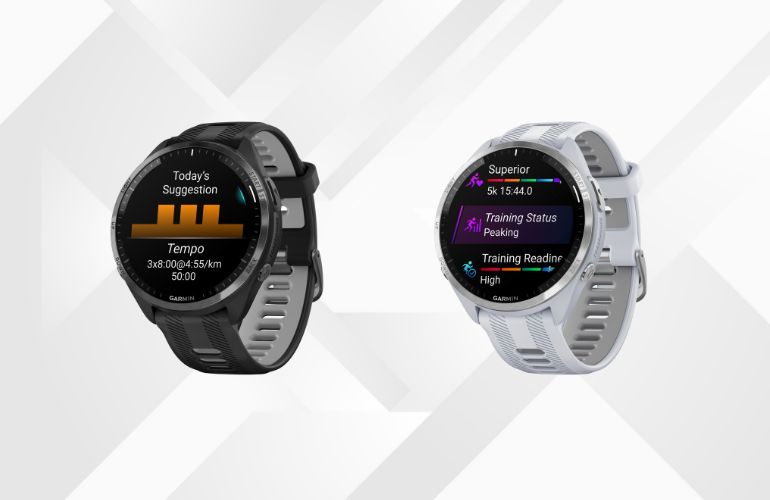 The newly launched Forerunner 965 is definitely a GPS running watch that competes for the title of the best running watch on the market. Compared to the 955 model, there are some significant updates, most notably a new AMOLED screen that offers better brightness and more vivid colours. There's also an increased level of detail on maps, offering higher zoom levels.
The size of the display has also become slightly larger, while the thickness of the watch has been reduced by 1.2 mm. A further update is that a titanium model is now also offered.
Here are some additional updates that can also be seen as benefits:
New USB-C Garmin charging cable
New Training Load Ratio feature
Feature for chronic training load
Built-in running dynamics without a sensor.
Revamped user interface to somewhat match the Garmin Epix AMOLED devices.
Full support for Physio TrueUp 2.0 (Unified Training Status, although the Forerunner 955 now also supports this).
Disadvantages:
No solar cell edition of the 965 (which is available on the 955).
No ECG hardware internally
Like all premium running watches, this is a rather expensive piece of kit with a target price of SEK 7399.
COROS PACE 2 – Best cheap GPS running watch in 2023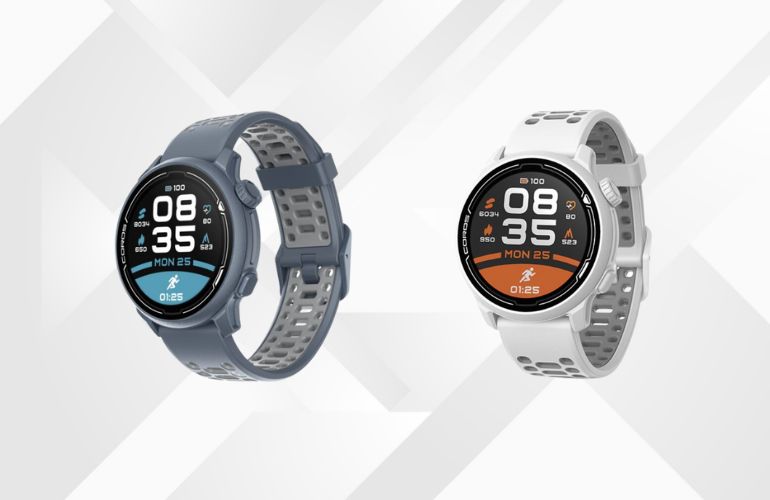 COROS Pace 2 is the running watch used by Eliud Kipchoge. Several other famous runners are also among the users of COROS running watches. These include mountain runners Emelie Forsberg and Kilian Jornet who use COROS running watches. COROS is a rather unfamiliar brand among running watches for many, but in recent years one model in particular has become popular.
Next to the Garmin 245, this is the running watch that I think has the best price/quality ratio. 2199 SEK gives you a running watch with all the features you need and much more. This is about half the price compared to most other premium watches on the market.
It is also interesting to compare the price with Garmin's Forerunner 45, which has been named the best budget choice among GPS running watches on many comparison sites. The regular price of this watch is SEK 1,990, although the features are not on the same level as what the COROS Pace 2 can offer.
Here are some of the advantages of the COROS PACE 2:
Lightweight: The COROS PACE 2 is one of the lightest GPS sports watches on the market, weighing only 29 grams. This makes it comfortable to wear during training and daily activities.
Comfortable silicone strap: This is also one of the most comfortable GPS running watches I've owned with its soft silicone strap. Of course, the weight mentioned above also adds to the comfort.
Long battery life: The watch has a battery life of up to 20 days in standard mode and up to 30 hours in GPS mode. This means you can use it for long periods without having to recharge it.
Advanced GPS features: The watch uses advanced GPS and GLONASS technology to accurately track your position. It also supports navigation and route functions, so you can create routes and follow them during your workout.
Comprehensive fitness tracking: The watch tracks a variety of fitness metrics, including steps, calories burned, heart rate and sleep quality. It also has a range of training modes for different activities such as running, swimming, cycling and more.
Smartphone connectivity: COROS PACE 2 connects to your smartphone via Bluetooth, allowing you to receive messages, control music playback and more.
Some other interesting features of the watch are the muscle heat map and strength training programmes available on the watch. After your workout, you can look at a muscle heat map to see which muscle groups have been worked the most per day, week or month. This can help you build up your following workouts.
The strength training programme contains over 200 exercises and build-ups already loaded for upper body, lower body, abs and back and more. COROS PACE 2 automatically records your body movements and monitors your heart rate to calculate calories burned.
Disadvantages:
Limited smartwatch features: Although the COROS PACE 2 offers some smartwatch features, such as notifications and music control, it doesn't have all the features you'd find on a dedicated smartwatch.
No touchscreen: The watch uses buttons for navigation, which can be less intuitive than a touchscreen interface.
Limited customisation: The watch face and other settings are somewhat limited, so you may not be able to fully customise the watch to your liking.
Difficult to navigate: Perhaps the biggest reason not to choose the COROS Pace 2, in my opinion, is that it has a spin button for navigating between different screens. This is somewhat difficult to manage while running.
Polar Vantage V2 – GPS running watch with best performance measurement in 2023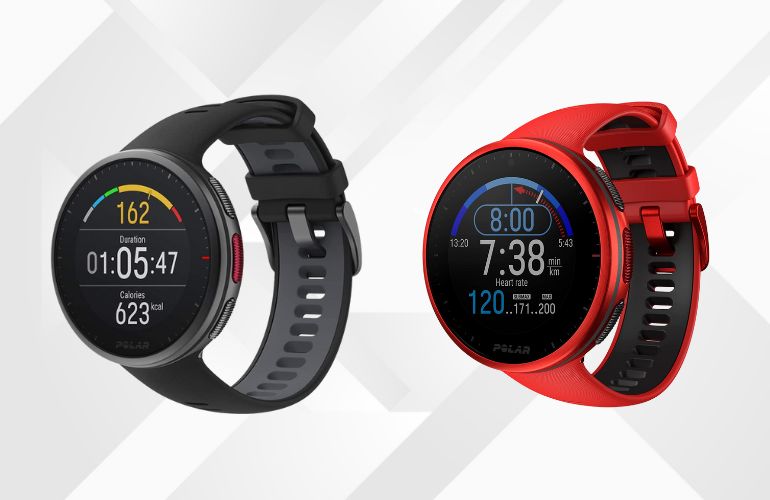 Polar was my choice of GPS running watches while living in Finland. What I liked most about Polar's running watches was their clean interface both on display and in their app. It was extremely easy to get useful performance data after each run and even during the runs it was easy to keep track of speed and other data.
Another good thing about Polar's running watches is that I find that their data is updated faster than other GPS running watches on the market. In other words, you see changes more quickly both when you increase and decrease your pace. This is especially good during intervals and similar speed sessions.
The downside of previous models of Polar running watches is that their charging functions often rusted and the water resistance was poor. Even the buttons came off due to poor materials. This has now been fixed on most of the models.
The Polar Vantage V2 is a high quality GPS running watch that is equipped with a range of advanced features with all of the aforementioned benefits, with previous drawbacks also addressed.
Benefits:
Advanced tracking feature: Polar Vantage V2 has a responsive and fast performance measurement. It also provides detailed metrics for your heart rate, calories burned, and other key performance indicators.
Long battery life: The Vantage V2 has a battery life of up to 40 hours in training mode, making it ideal for long workouts or multi-day events.
Comfortable and lightweight: The watch is made from high-quality materials and is designed to be comfortable and lightweight.
Comprehensive sleep tracking: The Vantage V2 tracks your sleep patterns and provides detailed information about your sleep quality, including how long you spent in each stage of sleep.
Smart coaching features: The watch has a range of coaching features that can help you improve your performance and reach your fitness goals. This includes personalised training plans, workout suggestions and more.
Disadvantages:
Expensive: The Polar Vantage V2 is a premium sports watch, which means it comes with a relatively high price tag.
Limited smartphone integration: While the Vantage V2 can connect to your smartphone to receive notifications and other updates, the integration is not as seamless as many other smartwatches on the market.
Limited app support: The Polar Flow app, which is used to track your exercise and synchronise data with the watch, is not as robust as some other fitness apps on the market. However, the data you get from your workout is nice and detailed.
No inbuilt music storage: Unlike some other sports watches, the Vantage V2 has no inbuilt storage for music, meaning you'll have to carry your phone or music player with you if you want to listen to music during your workout.
No touchscreen: The Vantage V2 uses physical buttons to navigate menus and select options, which may be less intuitive for some users than a touchscreen interface.
What to consider when choosing a running watch?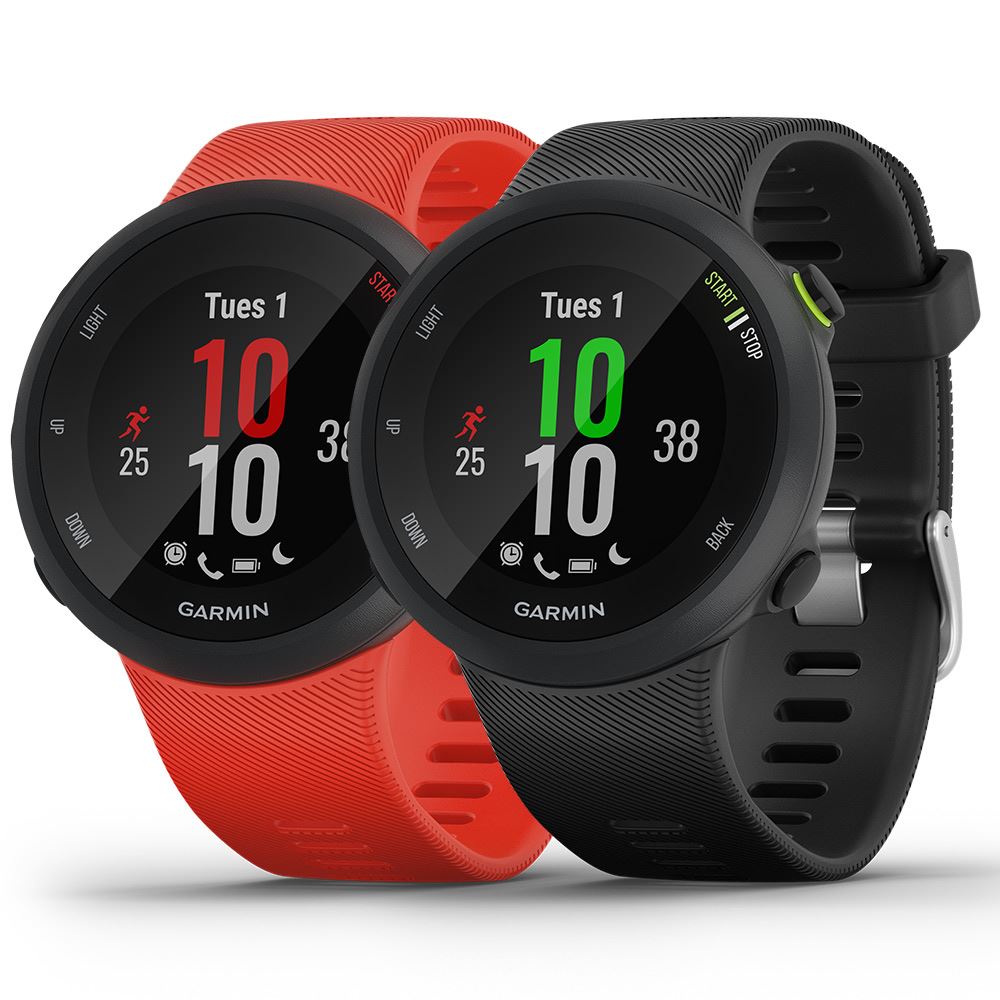 There are many factors to consider when choosing a running watch. These include:
Accuracy: When buying a GPS running watch, accuracy is an important factor to consider. It is important that the watch can accurately track your pace, distance and position throughout your run. Look for watches with high-quality GPS sensors that can provide accurate readings even in areas with poor GPS signal.
Battery life: Battery life is an important factor to consider, especially for long-distance runners. Choose a GPS watch that has a battery life that can last throughout your run. Some watches have long-lasting batteries that can last up to 24 hours, while others may need frequent recharging.
Data display: Consider the data display on your GPS watch, as it can significantly affect your running experience. Choose a watch that displays the data you need during your runs, such as distance, pace, heart rate and calories burned. The display should also be easy to read, especially in darkness and bright sunlight.
Comfort and durability: It is important to have a GPS watch that is comfortable to wear and can withstand the rigours of running. Consider watches with breathable straps that are lightweight and comfortable to wear for extended periods. Also look for watches with durable materials that can withstand exposure to sweat and moisture.
Compatibility: Consider the compatibility of the GPS watch with your phone, computer and other devices. Choose a watch that can synchronise data with your phone or computer to track your progress over time. Some watches also come with apps that can provide additional insights and training plans.
Price: The price of a GPS watch can vary significantly depending on the features and capabilities it offers. Consider your budget and choose a watch that offers the features you need at a price you can afford. Some GPS watches are more expensive but have advanced features that may not be necessary for all runners.
Brand reputation: When choosing a GPS watch, consider the brand's reputation. Look for watches from reputable brands that are known for their quality and reliability. Reading reviews from other runners can also help you identify brands and models that are popular with runners.
These are just some of the features to consider, but they could still be said to be among the most important. In my opinion, the GPS reception is extremely important, i.e. getting the measurement started quickly. But sensible navigation is also very important in my opinion.
Nowadays, even the most advanced models have functions that help measure sleep and general health. They are also connected to apps that help you keep track of these parameters. In this way, several running watches are close to the functions of so-called smartwatches.
Summary – Which running watch should I choose in 2023?
Which running watch should I choose in 2023? Above I have listed some of my favourites on the market right now. As mentioned, the development in this field is very fast, so there may be reasons to update the list as new models come out on the market. But what these models offer, you will get the most essential features you need from a GPS running watch in 2023.
Then it's just a matter of thinking twice if there's a particular feature you're looking for and doing your research on the model you're interested in. Good luck finding the perfect running watch for your needs!
Frequently asked questions about GPS running watches 2023
Which running watch should I choose?
When choosing a running watch, you should base your choice on your own needs and budget. In the premium category, the Garmin Forerunner 955 has generally been praised for its features, while the Garmin Forerunner 245 is the most popular running watch on the market. The COROS Pace 2 is a good budget option.
Which running watch is the best in test 2023?
The Garmin Forerunner 955 is one of the best GPS running watches in terms of its versatility for both training and recovery. It is also the optimal watch for race preparation. Also look out for the newly launched Garmin Forerunner 965, which now comes with an Amoled display for better visibility.
Which brand is the best among GPS running watches?
Garmin clearly dominates the GPS running watch market and is also at the forefront of new innovations in the field. Recently, Garmin models have gained more advanced features for measuring general health. COROS is an up-and-comer in the field and has produced several good models in recent years.
Which is the best running watch with GPS and music?
The Garmin Forerunner 245 with music is one of the most popular running watches with both GPS and music. It has received good reviews for its durability and versatility.
Which is the best running watch with Spotify?
The Garmin Vivoactive 4 is one of the best GPS running watches with the ability to play music directly from Spotify.
Which is the best running watch with a map?
The new Garmin Forerunner 955 running watch offers a colour map with Amoled display and is one of the best on the market in this area.