There is no doubt which GPS running watches are the most popular on the market. This also means that every new launch from the company is met with great interest. Garmin's newest GPS running watches for 2023 are the Forerunner 265 and the Forerunner 965 with AMOLED display – two watches that were launched in March 2023.
Internationally, it is Garmin that dominates, and among the various models, it is especially Garmin 245 and Garmin 255 that have become best-sellers thanks to their affordability. But several other Garmin models are also popular among running enthusiasts.
The Forerunner 955 has been recognised as the best running watch on many different comparison sites. But the question is whether the Forerunner 265 and 965 will now take over the throne with all the updates that have been made to the models.
Read more: Which running watch should I choose in 2023?
Garmin's newest GPS running watches 2023
Garmin has launched two new models in the Forerunner series that are sure to be hot candidates for the best GPS running watches of 2023.
In early March, Garmin announced the launch of the Forerunner 265 and Forerunner 965, the first dedicated running smartwatches in the Forerunner range to feature colourful AMOLED displays. This is an interesting development as one of the weaknesses of several Garmin models in my opinion is the sharpness of the screen.
In addition, smart and innovative features have been added to the watches – another weakness of the Forerunner series compared to other smartwatches on the market.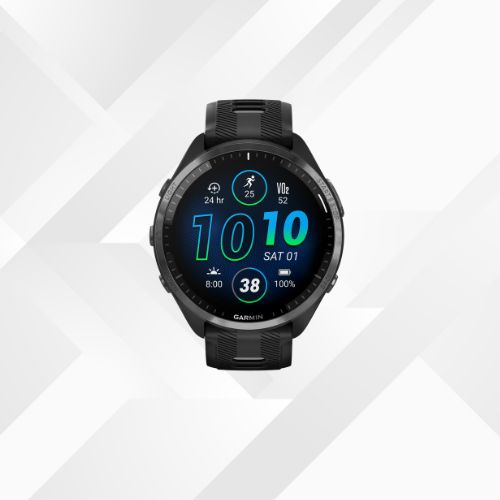 Both watches are made of lightweight materials and are brightly coloured. They also feature a colour screen that can be left on at all times and is easy to read in all weather conditions. A responsive touchscreen is complemented by Garmin's traditional five-button design. Navigation is definitely one of the Forerunner series' main strengths and we now see further improvements.
The Forerunner 965 has a titanium case that feels light on the wrist. Plus, this training watch provides advanced training data and health insights that make preparing for your next big race easier. Forerunner 265 has a battery life of up to 15 days in smartwatch mode and Forerunner 965 has a battery life of up to 23 days.
Further improvements to smart features
Forerunner 265 and Forerunner 965 offer innovative new tools to help you with your daily training and recovery. It makes it easier to access daily health insights, including smart notifications. Here are some of the smart features you'll find on the watches:
A morning report gives you insights into the last night's sleep and today's exercise outlook. You also get HRV (heart rate variability) status and weather information (when the watch is paired with a smartphone).
You can use Garmin's race widget to get training tips, personalised daily workouts and finish time predictions for an upcoming race based on course information, weather and past performance.
Personalised daily suggested workouts are adapted after each run to optimise your performance and recovery. This also takes into account the upcoming races that you have entered into the calendar in Garmin Connect™.
The Training Readiness feature provides a score based on your sleep quality, recovery and training volume, among other factors. It helps you decide if it's a good day for a harder workout or if you should take it easy.
You can track your heart rate variability while you sleep to get a complete picture of your health and better manage your recovery needs.
You can measure running power and running dynamics such as cadence, stride length, ground contact time and more directly from your wrist – no app or accessories needed.
Overall, these features show how running watches are getting better at helping us in our daily training by considering recovery as an important part of training. Especially if you are a beginner, it is important to get help with this, as you may not be used to interpreting your body's signals.
Garmin Forerunner 265 Functionalities
The more affordable of Garmin's newest GPS running watches in 2023, the Garmin Forerunner 265 has a recommended retail price of $449.99. This watch has a host of features to help you get better, faster and perform better at upcoming races.
Garmin Firstbeat Analytics™ measures performance; such as VO2 Max, performance ratio, training effect and more. If you're training for a race, you can use adaptive training plans and choose to add your race to the calendar in Garmin Connect.
You will then receive daily suggested workouts or can utilise expert planning from Garmin coaches via Garmin Coach. There's also the option to plan race strategy using PacePro™, which is an incline-specific guide for selected courses or distances. SatIQ™ technology and multi-band GPS also give you excellent positional accuracy even in more challenging environments.
The Forerunner 265 also keeps track of your health around the clock. There's a wrist-based Pulse Ox sensor that measures your energy levels with the Body Battery™ feature, an advanced sleep tracking with sleep score and stress measurement. You are also given the option to record menstruation and pregnancy.
All in all, the Forerunner 265 is a running smartwatch that is packed with connected features, where you get smart notifications and can even download songs from Spotify®.
The Forerunner 265 is available in two sizes, the Forerunner 265S which comes in 42mm and has a battery life of up to 24 in GPS mode and up to 15 days in smartwatch mode. The Forerunner 265 comes in 46mm and has a battery life of up to 20 hours in GPS mode and up to 13 days in smartwatch mode.
Garmin Forerunner 965 Functionalities
The Forerunner 965 is the premium watch with a recommended retail price of $599.99. It is designed for those who strive to be the best.
So what is the difference between the Forerunner 965 and the Forerunner 265? Well, here you will find more performance data, built-in maps and the ability to store even more songs directly in the watch.
You'll also find the new Load Ratio feature that measures your load ratio in the short and medium term. This helps you in your training so that you don't increase the amount of training too quickly. If you want to stay injury-free, this is a great tool.
The Real time Stamina feature also helps you manage your effort levels while ClimbPro allows you to see real-time information on current and upcoming climbs, distance and elevation. There are also built-in full-colour maps to help you stay on track and go the distance whether you're running or cycling on roads or in dense forest.
Another thing that adds to the premium feel of the Forerunner 965 is its lightweight titanium case and large 1.4″ AMOLED display. It has a size of 47mm and a battery life of up to 31 hours in GPS mode and up to 23 days in smartwatch mode.
Summary – Garmin's newest GPS running watches 2023
These are Garmin's newest 2023 GPS running watches in the popular Forerunner series. You can already see that there is a lot of interest in both models for all running enthusiasts aiming to break new records in spring and summer races.
It is clear that Garmin has learnt from the weaknesses of their previous Forerunner models to develop more complete models of running watches. In a world where smartwatches are getting better at measuring general health, consumers are becoming more demanding. This is something that has also evolved in Garmin's newest 2023 GPS running watches.