We are in the race season in most countries around the world. This also means that many of us want to update our shoe wardrobe with new models of running shoes. Here, I'm picking out the best running shoes for marathons and half marathons in 2023.
There are a few shoe models that dominate the market when it comes to racing shoes for the marathon and half marathon distance. Primarily among elite runners, both Nike and Adidas have for many years been seen among most of the top runners at the top major races around the world.
This doesn't mean that you can't find high quality running shoes from other brands for these distances. But what it does mean is that it's hard to beat these giants when it comes to shoe performance – at least from my own experience.
Trends in running shoes for marathons and half marathons
The big trend among running shoes for marathons and half marathons is lightweight shoes with good cushioning. What may seem obvious today is far from being just that.
When I started running marathons in 2011, the majority of elite runners and even recreational runners competed in running shoes with very low drop and thin soles. We were also in a period where we were inspired by barefoot running. I remember running my marathons with very thin soles on my racing shoes until 2017.
Everything changed when Nike introduced its running shoes with a carbon fiber plate in the sole as part of the Breaking2 project, which included Eliud Kipchoge trying to break the 2-hour barrier at the Autodromo Nazionale Monza Formula 1 track in Italy on May 6, 2017. At the time, he was wearing a pair of shoes under the name Vaporfly Elite, which would later be released to the public under the name Nike Zoom Vaporfly 4%.
There was a tremendous rush for these shoes and I was one of the lucky ones who managed to get hold of a pair. It was also these shoes that I wore when I ran the Stockholm Marathon in 2018. Since then, I have only competed in the Nike Vaporfly or the Nike Alphafly – their other premium racing shoe with a carbon fiber plate.
It was not only the carbon fiber plate with its excellent energy return that revolutionized the development of marathon shoes. The lightweight ZoomX foam material throughout the shoe also provides a cushioning system with incredible energy return. It was time for "maximalism" in running shoes for the marathon and half marathon.
Since then, most major brands have developed their own models of running shoes with carbon fiber plates or rods. Many also refer to these shoes as "super shoes" nowadays.
Best running shoes for marathons and half marathons in 2023
There are several reasons why you should consider getting lightweight running shoes with carbon fiber plate or rods if you want to create the best possible conditions for a good marathon or half marathon race. Here are my top running shoes for marathons and half marathons in 2023:
Nike Alphafly 2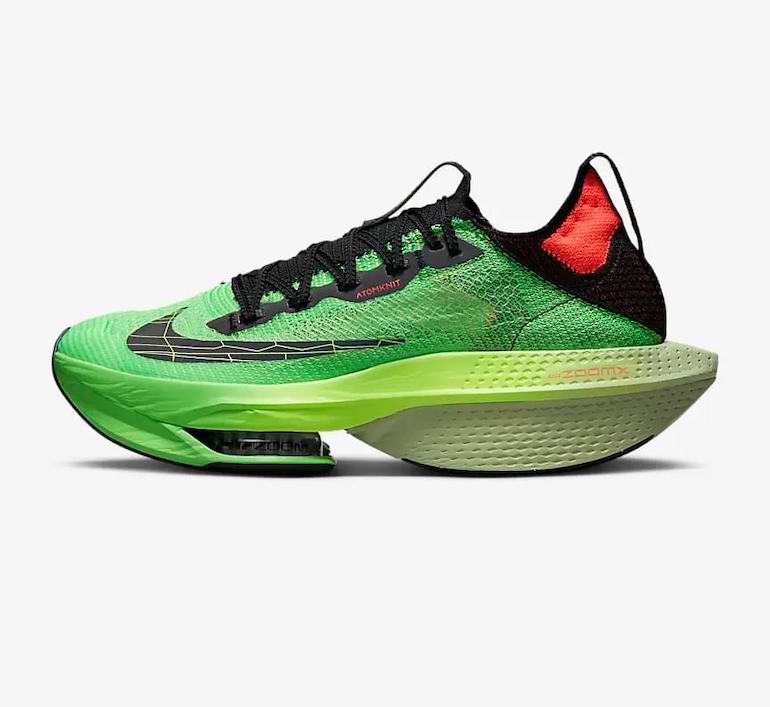 There's a reason why the Nike Alphafly 2 is one of the most popular marathon shoes on the market. The second version of the Alphafly feels softer and faster than its predecessor and is a reliable choice for both full and half marathons. I use this shoe daily even for training right now.
There are Zoom Air units and ZoomX foam materials all along the shoe that deliver an incredibly comfortable cushioning system. This helps keep you injury-free on any surface. I mostly run on concrete and these shoes are the best choice. The energy return is excellent and this is especially noticeable when you run faster intervals.
But it is not only the cushioning that is excellent. It is also a very light shoe where the carbon fiber plate along the entire shoe gives a forward feeling in the run. The thin rubber outsole provides excellent grip on all surfaces.
I recommend that you choose a size larger than what you are used to when buying a pair of Nike Alphafly 2 because they are slightly small in size.
The release date of Alphafly 3 is a hot topic right now – and for a reason.
Adidas Adizero Adios Pro 3
Alongside the Nike Alphafly 2, the Adidas Adios Pro 3 is the most common shoe seen by elite runners at marathons and half marathons around the world. So what is the difference between the two models?
In my opinion, the Adidas Adios Pro 3 is a more distinctly elite shoe than the Alphafly 3. Both shoes provide a unique propulsive feel, but the design of the sole of the Adios Pro 3 is more rounded, providing a better transition in the running stride. This is particularly beneficial for those with a pronounced forefoot running style. Since I suffer from Morton Neuroma, I prefer the extra forefoot cushioning that the Alphafly has.
The Adidas Adios Pro 3 is definitely one of the fastest and best running shoes on the market for the 2023 marathon and half marathon. But if you're not an elite runner, I recommend the Adidas Prime X (below). But it's definitely a shoe to consider if you are looking for the best Adidas running shoes.
Nike Vaporfly 3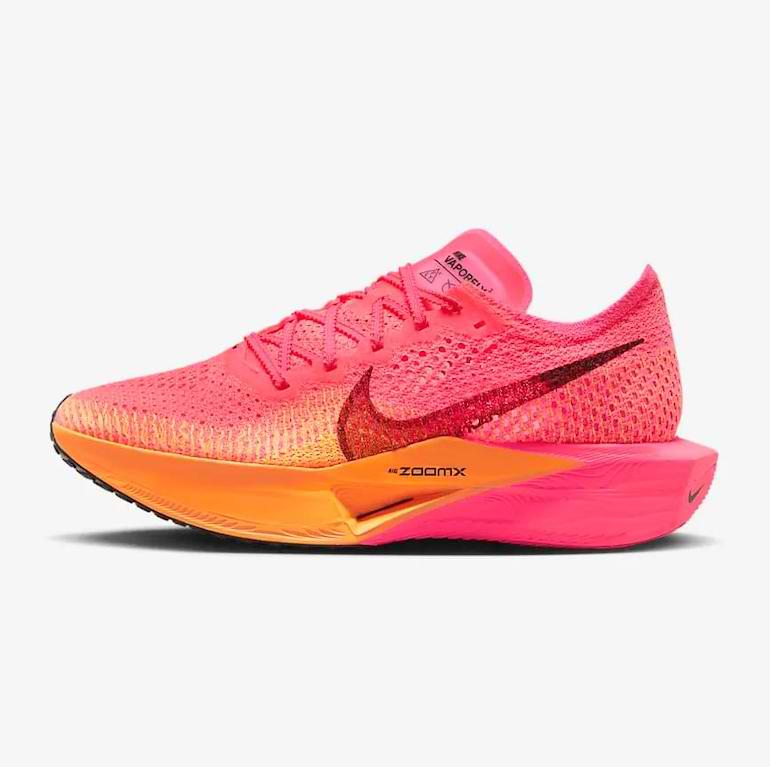 The Nike Vaporfly 3 is the brand's second premium shoe with a carbon fiber plate along the entire midsole. I have owned all models since the model was released to the public in 2017 and recently the latest model has been released.
Alongside the Alphafly, this is one of the most common running shoes among elite runners and that leads us to the question of what really separates the two models? The answer to that question is, among other things, the weight. With a weight of about 180 grams, it is the lightest shoe in relation to the level of cushioning on the market. However, the sole is slightly thinner on this shoe compared to the Alphafly.
Despite the thinner sole, the cushioning is just enough to protect sensitive legs from the impact of a marathon or half marathon. The sole of the newest model of the Nike Vaporfly also feels slightly softer than its predecessors.
Adidas Prime X Strung
A third running shoe that I can recommend for marathons and half marathons is the Adidas Prime X. This is one of the best cushioned and fastest shoes on the market. Next to the Nike Alphafly, the Adidas Prime X was my most used shoe last year.
Despite the extremely thick sole, the Prime X feels really light. Above all, the carbon fiber rods that are placed in the midsole provide one of the best push-offs I have experienced in a pair of running shoes. It literally feels like you are running on a trampoline when you run in the shoes.
In the newest model Adidas Prime X Strung, the upper has also been updated and the shoes feel more comfortable than ever before.
One of the few disadvantages of the running shoes is that the upper is quite unstable and therefore may not be suitable for runners who overpronate. You should also mainly stick to running on asphalt when using the shoes as you can easily twist your ankles on uneven surfaces.
But if you're aiming for a marathon or half marathon record, this is my choice. Especially as a beginner with sensitive legs.
Other good options
There are of course many other good brands on the running shoe market. Among others, the best models of running shoes from Hoka One One, Asics and Saucony are very popular on the market. Good fast and well-cushioned half marathon and marathon shoes from these brands include Hoka One One Carbon X3, Asics Metaracer and Saucony Endorphin.
The New Balance FuelCell is also a racing shoe worth keeping an eye on for those looking for the best running shoes for marathons and half marathons in 2023.
The Kiprun KD900X is a budget option among running shoes with a carbon fiber plate. Running shoes from Kiprun are something we will certainly hear a lot more about in the future.
However, the aforementioned models from Nike and Adidas are what I consider to be the best if you're looking for marathon or half marathon running shoes. These two brands have the resources to be at the forefront of the development of new material technology and design and constantly deliver running shoes with improved features.
Things to consider when buying running shoes for marathons and half marathons
Choosing the right running shoes for a marathon is crucial for a comfortable and successful race. Here are some things to consider when buying running shoes for a marathon:
Fit: The most important factor is getting the right fit. The shoes should feel comfortable but not tight. There should be enough room in the toe box for your toes to wiggle, but not so much that your foot moves inside the shoe. Be sure to try the shoes on at the end of the day when your feet are at their largest.
Support: Look for shoes that provide support for your feet and ankles. Depending on your foot type and stride, you may need a shoe with more or less support. A foot specialist can help you determine what level of support you need.
Cushioning: Marathon running can put a lot of stress on your feet and joints, so look for shoes with good cushioning. How much cushioning you need depends on your personal preferences and running style.
Breathability: Running shoes that allow your feet to breathe and prevent them from getting too sweaty or hot can help prevent blisters and other foot problems.
Weight: The weight of your shoes can affect your performance. Lighter shoes can help you run faster, but may not provide as much support or cushioning. Nowadays, many manufacturers have running shoes that are both lightweight and well-cushioned. Above you were given several examples of this type of shoe.
Durability: Make sure the shoes are durable enough to last throughout marathon training and the race itself.
Brand: Different shoe brands have different features and designs, so it's important to find a brand that works well for you. Try on shoes from a few different brands to find the right fit and features for your feet.
Terrain: Consider the terrain you will be running on. If the marathon is on a trail or in a hilly area, you may need shoes with better traction. Most importantly, make sure your shoes have enough grip on wet asphalt in case it's rainy on race day.