Whether you're pounding the pavement or traversing winding trails, a good pair of headphones can make your run all the more enjoyable. They can help you tune into your favourite podcast, set the rhythm with energizing tracks, or even guide you through interval workouts with precise, voice-guided instructions. But with so many options available on the market, how do you choose the best pair? In this article, I will unveil the 10 best headphones for running in 2023.
Best Headphones for Running 2023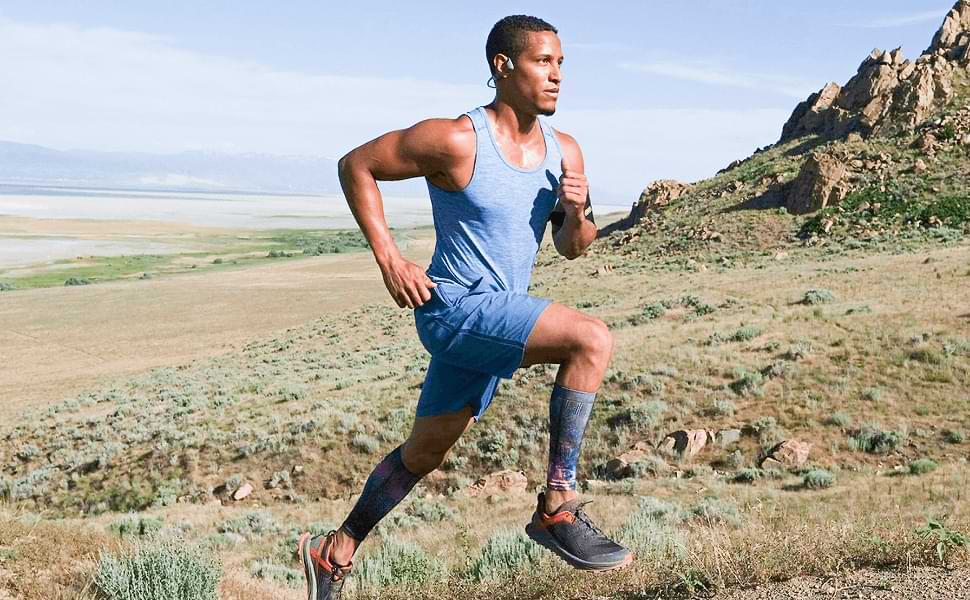 I've carefully evaluated the top models on criteria such as sound quality, fit and comfort, durability, water resistance, battery life, and of course, their ability to stay put during vigorous movement.
I've also considered additional features like noise cancellation, ambient sound modes, and connectivity options. Whether you're a casual jogger or a dedicated marathoner, a music enthusiast or a podcast devotee, Here I've got the perfect headphones for your running needs.
Read on to discover the perfect companion for your next run.
Read more: How to choose the right running gear?
1. SHOKZ OpenFit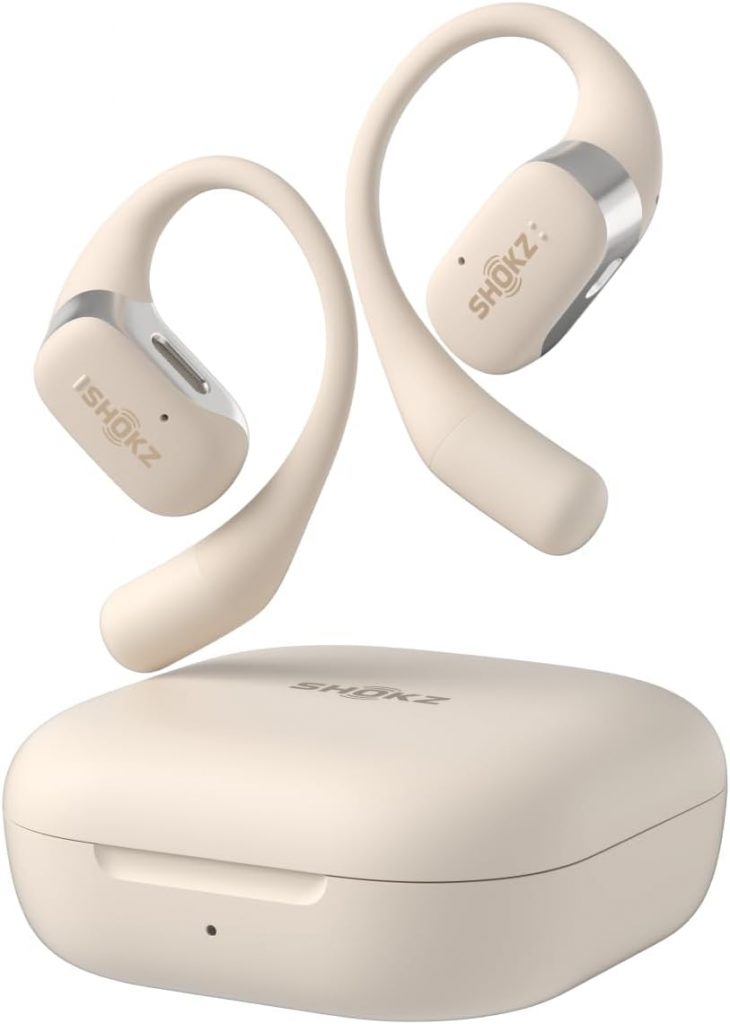 The SHOKZ OpenFit takes the renowned Shokz open-ear concept to the next level with a compact earbud design. Experience unparalleled comfort with its ergonomic design and ultra-soft silicone cushioning.
Thanks to Shokz's DirectPitch technology, you can enjoy premium sound while keeping your ears open and aware of your surroundings. It has an ergonomic and flexible ear hook combined with a well-balanced earbud weight design that ensures a comfortable and secure grip.
The OpenFit has up to 28 hours of continuous listening, and each charge provides 7 hours of playtime, and the charging case allows for a total of 28 hours.
2. Bose SoundSport Free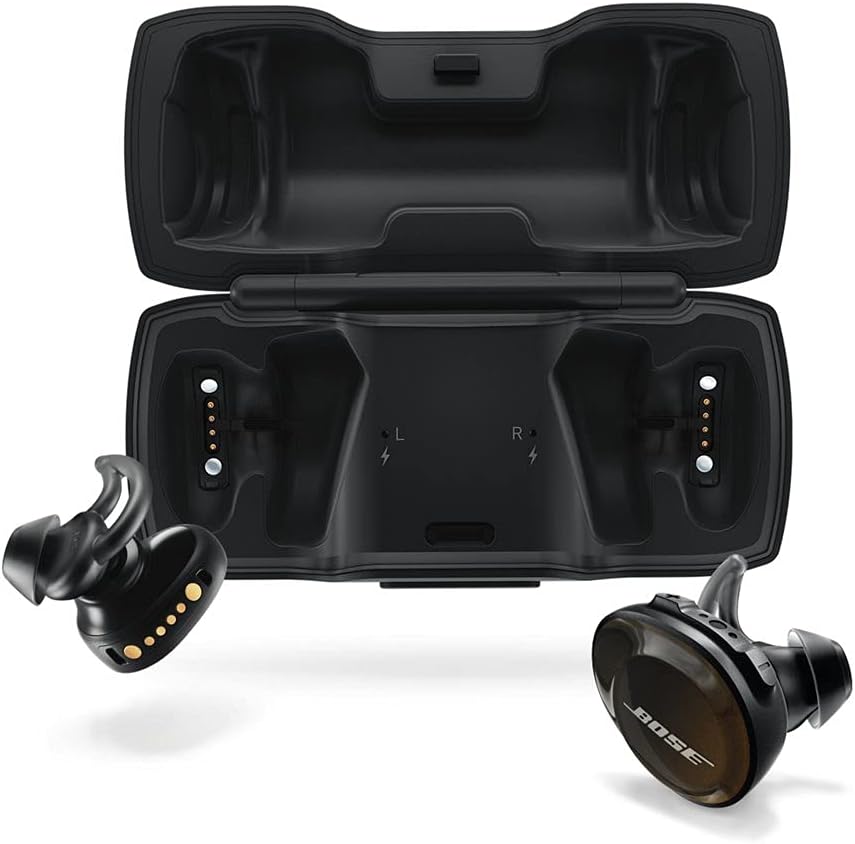 Bose SoundSport Free headphones offer unparalleled freedom of movement, combined with advanced technology for crystal-clear and dynamic music playback. These earbuds are designed to withstand sweat and various weather conditions, boasting an IPX4 rating. They come with three sets of StayHear and Sport tips in sizes S/M/L, ensuring a comfortable and secure fit.
Enjoy up to 5 hours of continuous playtime on a single charge, and with the included charging case, you get an additional 10 hours of battery life. Recharging takes only 2 hours, allowing you to stay immersed in your music for longer. Plus, never worry about misplacing your earbuds again, as the Bose Connect App's "Find My Buds" feature helps you locate them effortlessly.
Furthermore, the SoundSport Free headphones feature a built-in dual microphone array on the right earbud, enabling you to take calls when connected to a Bluetooth-compatible smartphone. Call audio is routed exclusively to the right earbud, ensuring clear and uninterrupted conversations.
3. Shokz OpenRun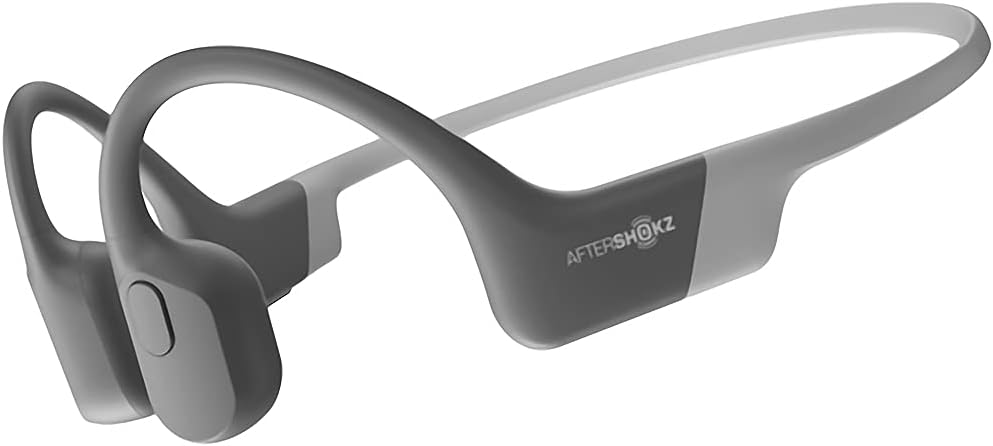 The patented bone conduction on the AfterShokz OpenRun headphones provides high-quality audio by transmitting sound through the cheekbone. Unlike traditional over-ear headphones, Aeropex allows you to stay connected and aware of your surroundings.
You will enjoy unmatched comfort with this lightweight and comfortable sport headset. The bud-free, pain-free design ensures all-day listening without discomfort.
They have 8 hours of continuous music or podcasts, along with dual noise-cancelling microphones for clear phone calls. They are also completely sweat and waterproof, making them ideal for workouts, fitness activities, and running. They come with a moisture detection alert for safe charging.
4. Powerbeats Pro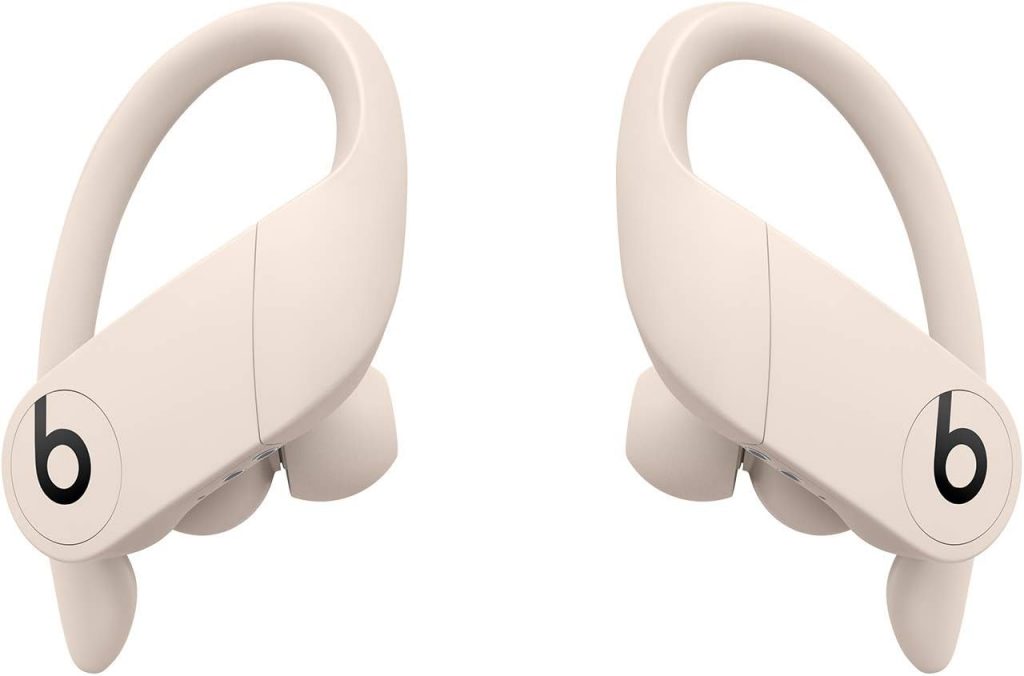 These completely wireless earbuds deliver exceptional performance. You can enjoy up to 9 hours of uninterrupted listening time (extendable to over 24 hours with the charging case).
They have customizable ear hooks to ensure a secure and comfortable fit, promoting lightweight and stable usage. A sturdy construction to withstand sweat and water make them ideal for intense workouts.
You have convenient volume and track controls on each earbud, along with voice capability and Auto Play/Pause feature. They have a powerful and well-balanced sound with dynamic range and effective noise isolation.
5. Jabra Elite Active 75t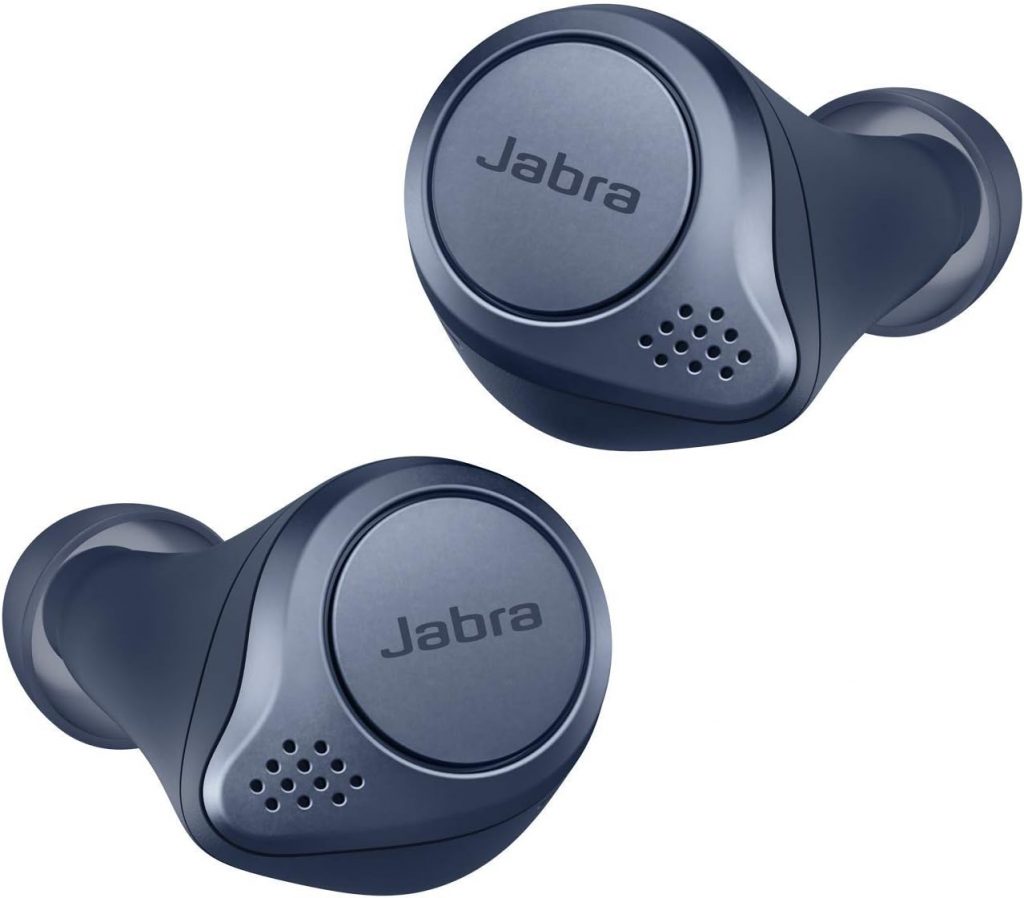 The team behind these earbuds meticulously analyzed thousands of ears to engineer the most secure and comfortable earbuds specifically designed for sports. These exceptional earbuds feature a specialized grip coating to ensure they remain securely placed during your every move. Furthermore, they boast sweatproof and waterproof capabilities, providing you with IP57-rated protection.
They have an active noise cancellation that eliminates external disturbances. By utilizing the Jabra Sound Plus App, you can effortlessly activate the ANC feature during your initial setup. Moreover, you can conveniently switch between ANC and Hear Through modes with a simple tap on your earbud button.
Equipped with four advanced microphones, state-of-the-art digital signal processing, and innovative beam form technology, these earbuds ensure excellent call clarity. Additionally, they seamlessly integrate with popular voice assistants such as Siri, Google, and Alexa.
These earbuds provide up to 24 hours of battery life when ANC is activated, all while offering a compact and travel-friendly charging case.
6. PHILIPS GO A7607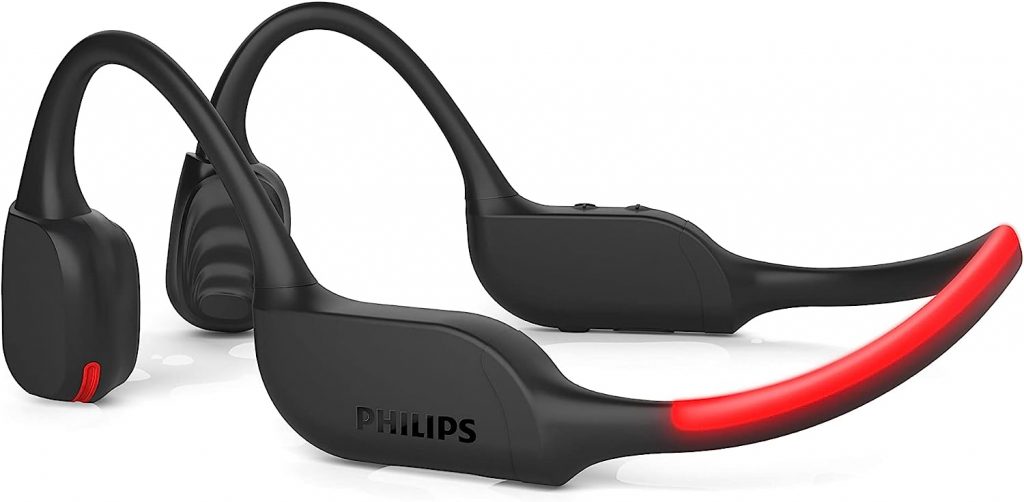 The Philips GO A7607 headphones are designed to enhance your outdoor workout sessions while keeping you connected and aware of your surroundings. With an innovative acoustic system, these headphones allow your ear canals to remain open, ensuring that you can enjoy your favourite tunes without compromising your safety.
One of the standout features of these headphones is the Bluetooth multipoint technology, enabling you to connect to two devices simultaneously. This functionality proves ideal for multitasking, as you can stay connected to your phone for important notifications while enjoying videos or audio from your laptop.
The Philips A7607 headphones are equipped with a bright LED light strip on the rear of the neckband, ensuring visibility in dimly lit environments. You have full control over the LEDs, either through the Philips Headphones app or by using the convenient on/off button on the neckband.
Crystal clear calls are made possible by the advanced AI microphone, which effectively eliminates background noise in any environment. Whether you're out on a run or a bike ride, the bone-conducting microphone effectively reduces annoying wind noise, ensuring your voice is heard clearly. Switching between microphones is a breeze with the dedicated button on the neckband, allowing for seamless transitions during calls or voice commands.
With up to 9 hours of playtime on a single charge, these headphones are always ready to accompany you on your adventures. And if you find yourself short on time, a quick 15-minute boost with the magnetic charging cable will give you an additional hour of playtime.
7. Sony WF-SP800N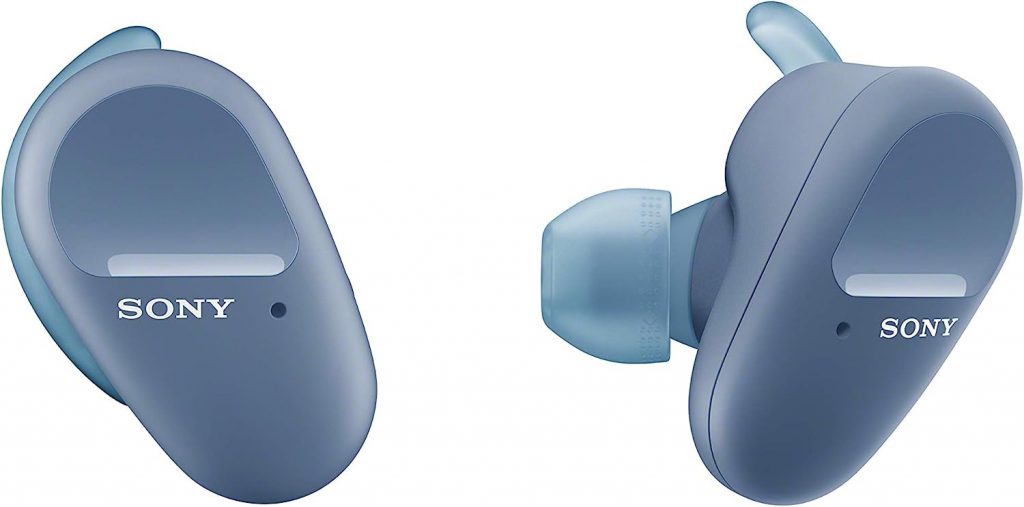 The Sony WF-SP800N earbuds offer a range of impressive features. They come with soft cushioned arc supports, ensuring a comfortable fit. With an effective range of approximately 10 meters in the line of sight, you can enjoy uninterrupted music while being free to move around.
To enhance your listening experience, these earbuds feature digital noise cancellation. Immerse yourself in your favourite tunes and get deep into the zone with minimal distractions.
In terms of battery life, you can enjoy up to 9 hours of continuous use, and with the included carrying case, the total battery life extends to 18 hours. If you prefer to disable noise cancellation, you can extend the battery life even further to up to 13 hours of continuous use, with a total of 26 hours when using the carrying case.
Designed to withstand sweat and splashes, these earbuds feature an IP55 rating, ensuring worry-free use during workouts or outdoor activities. Additionally, cleaning them is a breeze.
8. Plantronics BackBeat FIT 350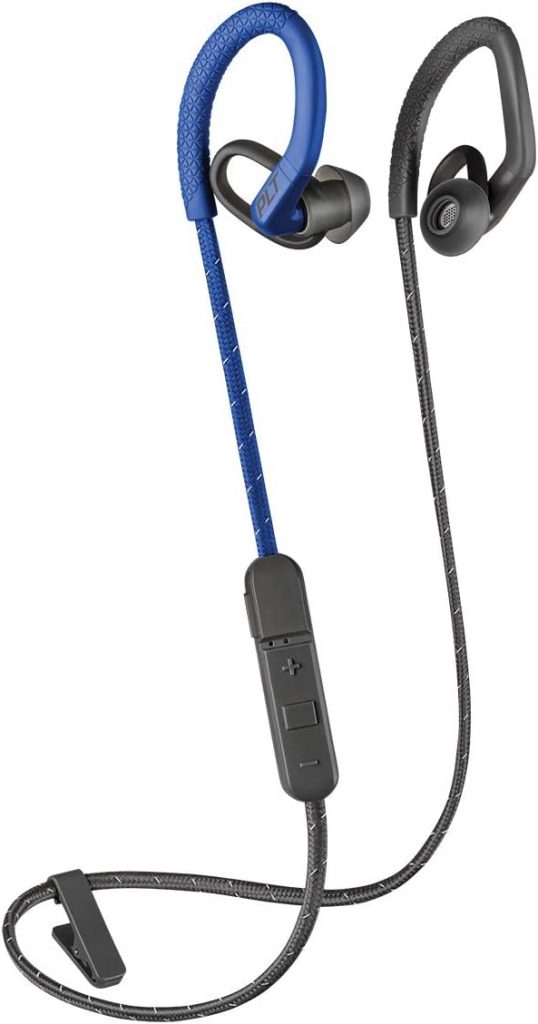 The Plantronics BackBeat FIT 350 Bluetooth headphones are designed with ultimate comfort in mind. Their ultra-lightweight construction provides all-day comfort, making them ideal for continuous use from one destination to the next.
The secure-fit earloops, patent-pending ear tip design, and stabilizers ensure a secure and snug fit. At the same time, the 2-in-1 cable clip adds stability by fastening to your shirt or functioning as a cinch.
These features deliver deep, rich sound while effectively blocking out external noise. Whether you're at the gym or running errands, our Plantronics headphones are designed to enhance your on-the-go lifestyle.
With a long-lasting battery, you can enjoy wireless listening on your BeackBeat FIT for up to six hours on a single charge. Additionally, a quick 15-minute charge gives you a full hour of listening, ensuring you never miss a beat.
9. Sennheiser CX Sport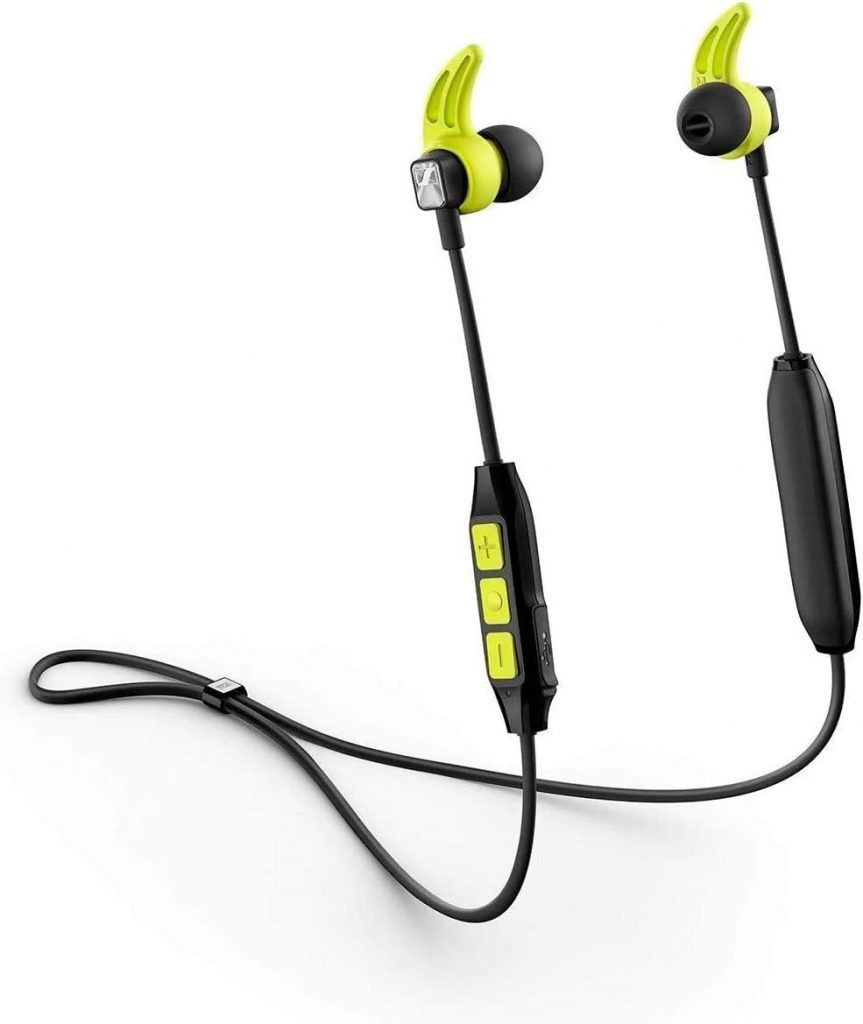 The Sennheiser CX SPORT features exclusive transducers developed and crafted in Germany, ensuring a harmonized and intricate audio experience that includes powerful bass capabilities. It is resistant to sweat and splashes, designed to enhance your workout sessions seamlessly.
With a 1.5-hour charge, you can enjoy up to 6 hours of battery life. Additionally, a quick 10-minute charge offers an extra hour of battery life, ensuring that the CX SPORT is always prepared for your workout needs.
Equipped with Bluetooth 4.2 technology and multi-point connectivity, you can pair the earphones with up to eight (8) devices and simultaneously connect with two (2) devices. This versatility allows for convenient switching between different devices without any hassle.
10. 1MORE Stylish True Wireless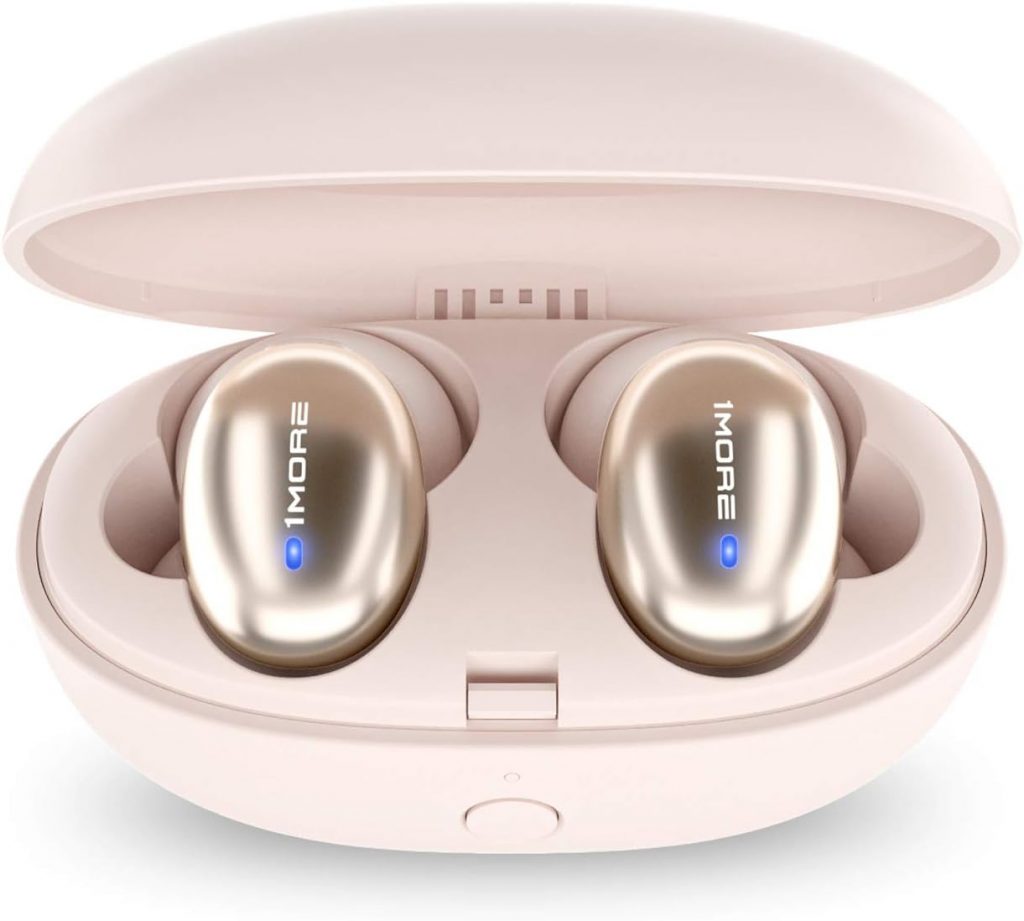 With a dynamic driver featuring a titanium composite diaphragm, these earbuds strike the perfect balance between powerful bass and exquisite details, delivering a natural and authentic sound that will captivate your senses.
On a single charge, you can enjoy 6.5 hours of uninterrupted music, and with the charging case, you can extend it to a full 24 hours. But that's not all! The quick charge feature allows you to fuel up your earbuds for just 15 minutes, providing an additional 3 hours of pure listening pleasure.
Powered by an optimized Qualcomm chip with aptX and AAC compatibility, these earbuds ensure a rock-solid connection that eliminates any music dropouts. Now, you can unwind and relax, knowing that your favourite tunes will accompany you without interruption.
The ergonomically designed earbuds also guarantee a snug and secure fit. With 45° oblique-angled nozzles, they comfortably and safely rest in your ear canals, even during strenuous workouts. We understand that everyone is unique, which is why we provide three additional pairs of ear tips in different sizes, ensuring you find the perfect fit for your ears.
What to Consider When Buying Headphones for Running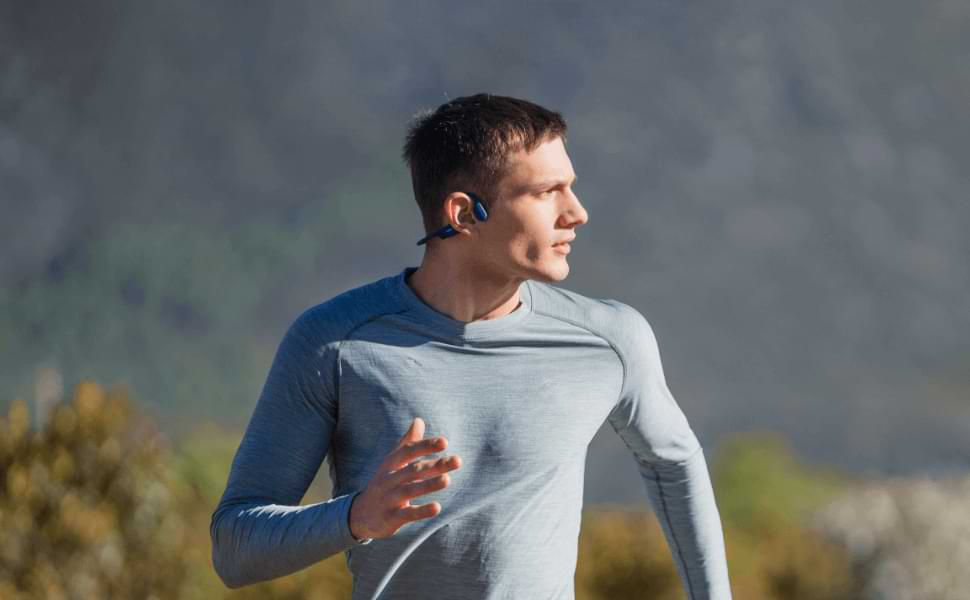 These were my favourites for best headphones for running 2023. When buying headphones for running, there are several factors to consider:
Comfort and Fit: For any headphones used for physical activity, comfort is crucial. They should fit snugly and comfortably without causing pain or discomfort during prolonged use. Some people prefer in-ear models, while others find over-ear or behind-the-neck models more comfortable. Consider trying on different styles to find what works best for you.
Durability and Build Quality: Running can put more wear and tear on headphones than in typical use. They may be exposed to sweat, rain, and physical impact, so it's important to look for a pair that is sweat-resistant or waterproof and built to last.
Wireless vs. Wired: Wireless headphones are often more convenient for running since they eliminate the potential for tangled cords. Look for models with Bluetooth connectivity, ideally with the latest version, for the most stable connection and best sound quality.
Battery Life: If you choose wireless headphones, pay attention to battery life. It's important that they can last through your longest runs or workouts. Fast charging features might also be useful.
Sound Quality: While you might not need audiophile-level sound quality for running headphones, you still want them to sound good. Look for models that deliver clear, balanced sound.
Safety: If you run outside, it's important to remain aware of your surroundings. Some headphones offer features like ambient sound modes, which allow you to hear outside noise for safety reasons.
Controls and Integration: Look for headphones with easy-to-use controls for adjusting volume, skipping tracks, or answering calls. If you're an avid smartphone user, consider headphones that integrate with your phone's assistant (like Siri or Google Assistant).
Price: Finally, consider your budget. There's a wide range of prices for headphones, and while more expensive models often offer more features and better sound, there are plenty of affordable models that can meet your needs as well.
FAQs – Best Headphones for Running 2023
What features should I look for in headphones for running?
Good headphones for running should be sweat and water-resistant, lightweight, and have a secure fit to stay in place during workouts. They should also offer long battery life (if they are wireless), good sound quality, and ideally, some level of noise cancelling or awareness for safety.
Are over-ear or in-ear headphones better for running?
This largely depends on personal preference. However, in-ear headphones (especially those designed for sports with secure ear hooks or wingtips) tend to be more lightweight and stable for running. Over-ear headphones, while often offering superior sound quality, can be bulkier and may not stay in place as well during vigorous activity.
How important is sound quality in running headphones?
Sound quality is important, but it doesn't need to be your top priority for running headphones. You'll want to hear your music or podcasts clearly, but high-end sound quality may not make a huge difference when you're focused on your workout. However, if you're an audiophile and want the best sound even when working out, there are premium sports headphones available.
How do I keep my headphones from falling out while I'm running?
Choose headphones specifically designed for sports, which often have additional features to secure them in your ear, like wingtips or ear hooks. Also, ensure you have the right fit; many headphones come with different-sized ear tips.
Should I get wired or wireless headphones for running?
Wireless headphones are generally more convenient for running because they don't have a cord that can get in the way. Bluetooth headphones or true wireless earbuds are popular options.
Are noise-cancelling headphones safe for running outdoors?
While noise-cancelling headphones can help you focus on your music or podcast, they can also block important environmental sounds. If you're running outdoors, particularly near traffic, it's safer to use headphones that allow some ambient noise in or have a "transparency" mode that you can switch on.
How do I clean my running headphones?
Check the manufacturer's instructions first as they can vary. Generally, you can wipe them down with a damp cloth (not wet) and mild soap. Make sure not to get any moisture in the openings. Never submerge your headphones in water unless they're explicitly labeled as waterproof.
What is the expected battery life of wireless headphones for running?
Battery life can vary depending on the model, but many wireless headphones offer between 5-12 hours of playtime on a single charge. Some true wireless earbuds offer shorter playtime but come with a charging case for on-the-go recharging.
What is the "IP rating" on headphones?
IP stands for "Ingress Protection" and is a standard that indicates the degree of protection against solids (like dust) and liquids (like water). For running, look for headphones with at least an IPX4 rating or higher, which indicates they are sweat and splash resistant.
Do all running headphones come with a built-in microphone?
Not all running headphones have built-in microphones. If taking calls or using voice commands is important to you during your runs, make sure to check the specifications before buying.